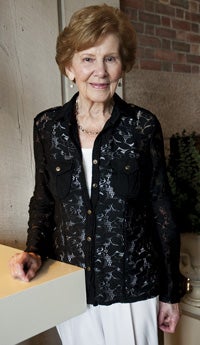 On June 3, Blanche Richard Murray '41, Hon. '88, attended her 70th Class Reunion at Golden Grad Weekend. Her attendance was the least of many accomplishments.
Here is her shortened résumé:
1971 First woman president of the URI Alumni Association.
1976 Winner of the Alumni Ram Award.
1981 First woman president of the URI Foundation.
1983 Rhode Island Home Economics Teacher of the Year.
1988 Recipient of a URI honorary degree in tandem with her husband, Daniel J. Murray '35.
2003 Inducted into the College of Environment and Life Sciences' Hall of Fame.
2011 Athletic Department's Rhody Role Model Class of 2011.
In addition, she served 34 years on the URI Foundation Executive Board and two terms on the Rhode Island Board of Governors for Higher Education; she also served on a presidential search committee, an evaluation committee, and on the Alumni Association's Golden Grad Committee.
Family members who attended URI include her sisters Roma Richard Bourassa '40 and Yvette Richard Biehusen, who transferred to Yale; her sons Richard M. O'Brien '74, E. Gerald (Jerry) O'Brien '73, M.A. '81, and his wife, Norma '73; and her grandchildren Elizabeth O'Brien '04, Nicholas O'Brien '09, Adam O'Brien '10, and Eric O'Brien, who will graduate in 2012.