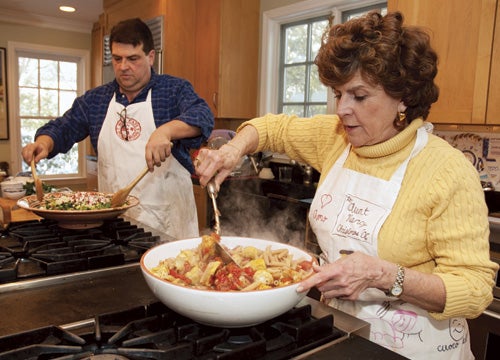 Tom Verde and Nancy Verde Barr have a lot in common: They are brother and sister, URI alumni, and cooking enthusiasts. They are also both writers, as in published authors. Between them, they have written 10 books and countless articles covering diverse subjects.
Try these recipes from The Pink Ribbon Diet! Pasta with Roasted Artichokes and Tomatoes Penne with Spinach and Beans.
Despite those similarities, they have not followed the same path (nor a course that has run smooth).
When Tom graduated from high school in 1976, his plans didn't include more time in the classroom. "I was 18 and stupid," is how he explains it. "My sister Nancy said, 'Tom, you are going to go to college!' She actually filled out my application for URI."
Nancy knew what she was talking about. She had graduated from URI in January 1967, earning a B.A. in English after transferring there in her junior year, attracted by the school's English department. "At the time URI had a Shakespearean scholar, Professor Warren Smith, whose reputation was known well beyond the campus. The entire department was terrific; I could have gone on for 15 years and not depleted the wealth there."
Enrolled in creative writing, she found herself in class with Tom Griffin '68, the now-famous poet and playwright. "He was very good. I'd listen to him and think, 'that's a writer.' By comparison, I thought I didn't have anything to say." A few years later, her interest in cooking would change all that.
Salad Days
"Getting involved in food" had not been part of Nancy's original career plan. "In 1970, I was teaching in Washington, D.C. and looking for something to do at night while my husband was in school. A friend and I found cooking classes, and I loved it!"
A few years later, now living in Rhode Island, Nancy was invited to assist Julia Child at a fundraiser in Providence. The two hit it off immediately. Nancy went on to work with Julia for the next 25 years, forming a deep personal friendship as well.
"Julia encouraged me to write. My first article was published in 1983 in Food & Wine." That first article was followed by others in Gourmet and Bon Appétit. "Then, Julia began encouraging me to write an Italian cookbook. She insisted I study with Marcella Hazan. I knew southern Italian cooking from home, but this is when my love affair with all Italian food began."
The book provided an opportunity for Tom and Nancy to work together as writers. We Called it Macaroni: An American Heritage of Southern Italian Cooking (published by Knopf in 1990), included stories of the people behind the food. "My brother did all the interviews for that book. His strength is knowing how to ask questions. Every single minute working with Tom on that book was terrific."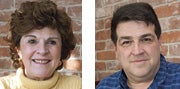 Meet the Authors
Alumni and friends interested in writing are invited to the URI Alumni Center on May 5, 5:30–7:30 p.m. to meet Nancy Verde Barr and Tom Verde, who will share some of their writing experiences. The event, hosted by the URI Writers Affinity Group, will give those interested in the writing life a chance to connect and enjoy refreshments. Cost is $10. Registration is required.
To register online today, go to advance.uri.edu/alumni/chapters/
The Accidental Journalist
Meanwhile, Tom had been making his way in the world too. He graduated in 1981 with a B.A. in English, and after a false start in banking, a broken heart pushed him to Block Island. He contacted the editor at the local paper: Did he need a reporter? "That was my first writing job. I loved it. It set me on a track I hadn't anticipated. It was fun, interesting, and I was getting paid to write."
He landed next in Portland, Maine, reporting for a daily paper and National Public Radio. One day at a press conference, he literally bumped into a Boston-based journalist for Newsweek named Kate Robins. Soon married to Kate and living in Boston, Tom continued to write for NPR (in particular for the Living on Earth program), and freelanced regularly for the Boston Globe.
"I was also writing for PRI [Public Radio International], a show called Marketplace. The executive producer wanted to do a travel show; I wanted to do travel writing." He became a regular correspondent for The Savvy Traveler, eventually covering an assignment in the Middle East, an area that captivated him. "I traveled the Frankincense Route from the Arabian Peninsula up through Saudi Arabia, Jordan, and into Egypt."
His Middle East experience prompted a return to school for a Master's degree in Islamic Studies and Muslim Christian Relations. This led to a job teaching Christian theology and philosophy at the King's Academy in Jordan, an independent boarding school founded in 2006 by King Abdullah II of Jordan and modeled after Deerfield Academy, where the king was educated. "I wanted the experience of living in the Middle East," said Tom, "and theology and philosophy were topics of interest to me."
Now living in Connecticut, Tom writes regularly for Saudi Aramco World (saudiaramcoworld.com), and teaches Christian theology at Calvary Church in Stonington. He is working on a book proposal; the topic is the life and travels of Egeria, a 4th century Christian pilgrim to the Middle East.
The Writing Life
"We've always been very close," Nancy notes. And now, it's especially nice to share what is for most an unfamiliar occupation. "We understand the writing process. As a matter of fact, Tom edited every one of my books before I sent it in. I rely on him for this." Tom relies on Nancy, too. "We take turns talking each other in off the ledge. She's a good writer, but she'll come to me for support when she's uncertain about her writing, and I do the same. We go back and forth."
To date, in addition to dozens of magazine articles, Nancy has had six books published, including four cookbooks, a memoir, and a novel. Her most recent, released in 2010, is The Pink Ribbon Diet. Tom is the author of four books and scores of articles for publications that include The New York Times. They hope to co-author a book someday. Tom says, "I dream of doing a book that merges my love of history and culture with Nancy's expertise and knowledge of food.
"The thing about writing is that it allows you to be a perpetual student. When you find your niche—writing about something that's important to you—follow that path. Ultimately, I've ended up where my interests lie: History and the intersection of three monolithic religions. I consider writing a great privilege. It's the best job in the world."
Sister Nancy concurs.
By Martha Murphy '81