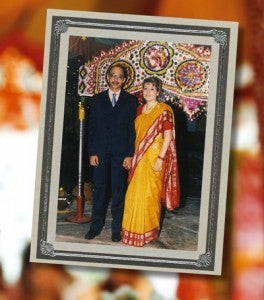 The pair first married on January 6, 1988, in India and then again on June 11, 1988, in Walpole, Mass.
"For the Indian wedding I had a clip-on nose ring, henna decorations on my hands, and I wore a sari. For the American wedding, I had the traditional white bridal gown, "Karen recalled.
In 1985, President Ronald Reagan was coming off a landslide re-election and declaring "Morning in America."
Van Halen was exhorting people to "Jump," while Prince crooned "When Doves Cry," and Tina Turner asked, "What's Love Got to Do With It?"
Well, everything as it turned out for Karen Grant '87 and Tushar Misra, M.S. '86, Ph.D. '89.
That was the year that the pair fell in love. Tushar was a graduate student in chemical engineering while Karen was a junior business major. He was from India; she was from Massachusetts.
They had met two years earlier, but the relationship turned romantic when the pair worked together at the circulation desk of the URI Library. Yes, Karen Misra recalled, it was two years from first meeting to first date, enough time for friendship to turn to courtship.
But courtship was not without its obstacles. Like the small problem of Tushar's mother back in India looking in earnest for a suitable bride for her son. Unbeknownst to her, Tushar had already found one. Drama ensued, but fortunately love prevailed.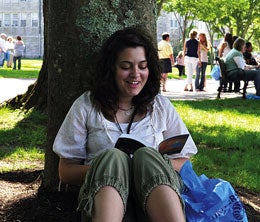 Twenty-four years later, Karen and Tushar are the parents of five children ages 20 to two. Their second oldest, Asha, 18, (whose name means "hope") began her freshman year at URI this September. She is majoring in environmental science, wildlife biology, and conservation.
"I was in my junior year of high school and had no idea where I wanted to go," recalled Asha, who was living with her family in Leesburg, Va., at the time. "My mom suggested URI. I visited and fell in love. The campus and buildings were gorgeous, and the Quad—it seemed historic to me, exactly what a campus should look like."
Asha's enrollment heralds another milestone in the Misra family's history with the University; with more than one generation attending, they have become a URI legacy family.
The Misras are delighted that their eldest daughter is now part of a place that holds so many wonderful memories for them. "Asha knows her mind, she's always been in charge of her own destiny," said Karen, who has just orchestrated the family's move back to Massachusetts. "A year ago, in April, when her father took her on a tour of URI, she fell in love with the campus. And she also received a Ram Award, a partial scholarship."
"We're very happy," continued Karen. "I enjoyed being at URI, and I think I got a very good education there. And Tushar has done outstandingly with his degrees."
Indeed he has. Tushar is now senior vice president, chemistry and pharmaceutical sciences at the Marlborough, Mass.-based Sepracor, Inc., a research-based pharmaceutical company that specializes in developing medicines for the treatment of respiratory and central nervous system disorders.
Karen and Tushar have been back to the University a few times over the years, most recently last summer for Asha's orientation. "We went back to the library's circulation desk," Karen said and laughed. She recounts her memories of that time with a precision that would make Melvil Dewey proud.
"Our first date was attending a movie on campus in Edwards Hall. We saw . Tushar kissed me on our second date. We had gone to the Showcase to see ."
At the campus food co-op, the two shared bowls of halwa, a grain-based dish with the consistency of Cream of Wheat flavored with peanut butter and sugar. On nights when they weren't working the 7-to-midnight shift at the library, Karen and Tushar would meet in the chemical engineering lab where Tushar studied or join friends at the campus's International Coffeehouse.
"In the summer of 1986, Tushar was back in India, and I was writing him a letter a day," Karen recalled. "His mother was trying to get him married that summer. She wanted an Indian wife for him. We'd kept our relationship secret for almost a year."
The flood of letters made it impossible for Tushar to keep Karen a secret from his mother any longer. "His mother took it hard," Karen said. "She wrote letters of her own for a year. I wrote to say I had no intention of taking him away from her."
Back in Kingston, the cross-cultural relationship didn't seem such a big deal. "Tushar and I never worried that we were from different cultures. We had so many friends from other countries that our relationship seemed normal to us."
When they finally decided to marry, Karen and Tushar agreed to a traditional Hindu ceremony in India followed by a church wedding in the U.S. The pair first married on January 6, 1988, in India and then again on June 11, 1988, in Walpole, Mass.
"For the Indian wedding I had a clip-on nose ring, henna decorations on my hands, and I wore a sari. For the American wedding, I had the traditional white bridal gown," Karen recalled. "We have two formal wedding portraits."
Having two wedding ceremonies was the first of many efforts the couple have made to meld their cultures. The Misra children, for instance, all have Indian first names and American middle names. So there is URI freshman Asha Alice Frances, her older brother Eshan Charles, and her younger siblings Nitesh Lewis, Chaya Lillian Louise, and Kiran Eric.
"Kiran's first name means "ray of light," which he absolutely is," remarked his mother. "The four older children's middle names are all family names. The baby's middle name was a group decision as we were all rockin' out at an Eric Clapton concert. We are a laid back, welcoming family that is accepting of people of all different races and beliefs. We have a lot of fun."
Of leaving her family to begin her first year at the University, daughter Asha commented: "It's bittersweet. I'm excited, but I miss my family. However, it works out perfectly—they're one hour away, so they can't just drop in, but they can be here quickly if I need them."
Covert dating could be a challenge, though.
By Marybeth Reilly-McGreen
Photos courtesy of the Misra Family and iStock