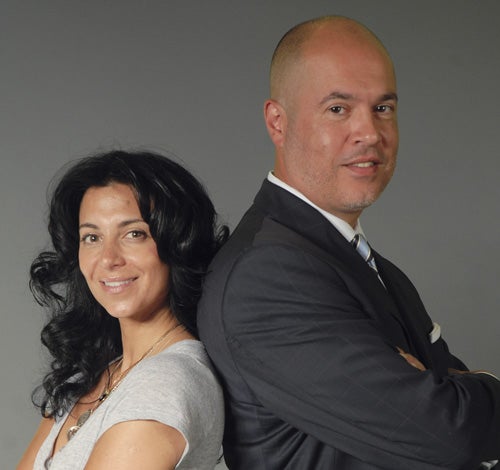 When Carolyn Rafaelian got in trouble as a child, her mother, Lucy, would send her to work with her father, Ralph Rafaelian, at Cinerama, the family jewelry factory in Cranston. "It gave me a great work ethic," Rafaelian laughs. "Always be productive!" She would start by carding jewelry but would often end up firing up a torch and soldering her own jewelry together.

Perhaps it is no surprise to her parents that today Rafaelian sits at the head of Alex and Ani, the Cranston-based positive energy company that is currently the fastest growing business in Rhode Island. With nine retail locations and 24 more scheduled for 2012 and an international presence, Alex and Ani is rapidly becoming a top name in accessories. Numerous Hollywood celebrities have been spotted wearing the signature expandable bangles, and the brand is regularly featured in magazines such as Vogue and the Sports Illustrated swimsuit edition.
Since launching in 2004, the company has distinguished itself with an eco-friendly approach, using recycled metals from local vendor partners as components for the jewelry. For Rhode Island, this is good news as Rafaelian is committed to continuing to produce the jewelry in Cranston.
Rafaelian, who named the company after her first two daughters, aims to share the power of positive energy—what the company also refers to as "vital force"— with everyone who wears her designs. She defines her life's work as inspiring her customers to relish what is unique and authentic about themselves. Her products are known for their symbolism, bearing designs ranging from the tree of life to the peace sign to a paw print.
"I made a business out of my own personal preference and style because I was passionate about it," says Rafaelian. "When you truly love what you do, you can't stop doing it, and you do it with a lot of energy behind it."
That passion has taken Alex and Ani on an explosive journey. In 2010, the company recorded revenue of $4.6 million; in 2011, it finished at $17.5 million. The rapid growth and growing popularity trace back to the partnership between Rafaelian, the owner and chief designer, and Giovanni Feroce '91, the CEO, a collaboration brought about through their connection to URI.
Rafaelian studied marketing at URI from 1987 to 1989 before leaving for a more hands-on experience at The American College in Los Angeles. Feroce graduated from URI with a degree in political science. But it wasn't until October 2009 that they ran into each other at a URI fraternity/sorority reunion. Feroce, an optical industry executive who founded and previously owned the optical center in the Memorial Union, was reintroduced to Rafaelian, who was building her jewelry business. "When I came to Rhode Island in March 2010, I decided to stop and say hello to Carolyn," Feroce recalls. "When I saw her operation and realized there was real substance behind her business, I basically never left. Within a short time, we had decided we should work together."
Before taking the helm at Alex and Ani, Feroce served as the nation's youngest state senator. He is also a retired U.S. Army field grade officer and an Operation Iraqi Freedom combat veteran. Feroce credits his unique background with aiding him in piloting the company forward: "Alex and Ani is following a path to make us a pillar business of the community to be recognized in the same breath as CVS, Hasbro, or GTECH. For that to happen, one has to understand the political landscape. My experience allows us to do that."
"A URI graduate can compete with anyone," Feroce smiles. "I grew up in West Warwick, then went to public schools and to our state university. I think that's a good example of what can be achieved even when you don't come from the best economic conditions."
Rafaelian agrees: "There's nothing but opportunity for kids in college today. We didn't have half of what is at their disposal now. I initially had to deal with buyers and middlemen just to get my product out to the consumer. Now I would just set up a Web site. Anybody can be an entrepreneur!"
Both Feroce and Rafaelian identify the relationships they formed at URI as one of the keys to their success. "If your business is based in Rhode Island" explains Feroce, "going to URI allows for the connectivity to last your whole business life. You will definitely cross paths with a URI grad if you are in business. If you succeed at URI, you'll succeed in Rhode Island."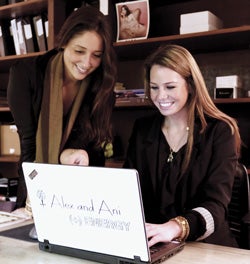 To date, Alex and Ani has had six URI interns and has hired three of them into full-time jobs. Samantha Primavera, a senior art history major who began as an intern in the merchandising department, was recently hired to work as assistant merchandiser after her graduation. "My favorite thing about Alex and Ani is the love and positivity that is put into each piece," says Primavera. "It's so much more than jewelry. Our collections are made up of pieces that inspire our wearers and represents what is special about each of them."
Guided by that vital force, Alex and Ani continues to evolve, explains Rafaelian: "We're working on a line of beauty products, perfumes, body sprays, lip balms, and lotions. The line, under the name Scent Seven, is scheduled to launch late spring. They all relate back to our positive energy message. Each one has a formulation that cleans and balances the environment, energetically speaking."
"Alex and Ani is a lifestyle brand," says Feroce, "and we're still at the beginning. You should not be surprised if three years from now, we look very different from what we look like right now. But the message will always be the same. We're a positive energy lifestyle company. Someday you'll sit on an Alex and Ani chair, and it will feel better. Or you'll eat off of Alex and Ani plates, and the food will taste better."
By Bethany Vaccaro '06