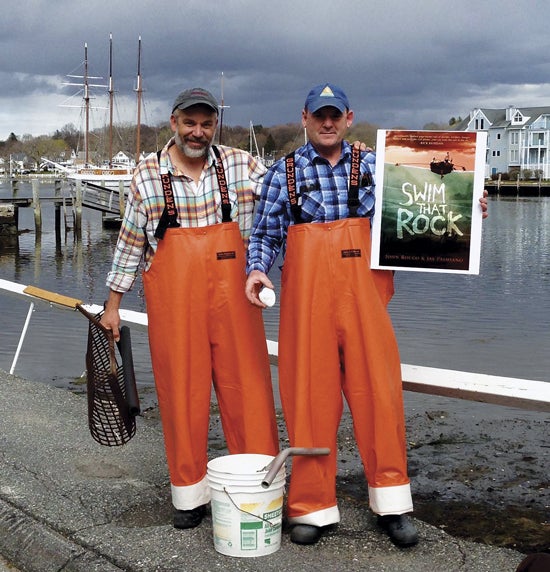 In two hours we have seventeen stripers, all more than thirty pounds, sitting on top of ice in the storage compartment below deck.

"I bet we got about five hundred pounds of striped bass here, Jake. I'll call Hank at Narragansett Fish Factory. Maybe we can get a good price."

I realize this was never just about going out and having a good time fishing. Captain had said fishing "for fun." Yeah, right. But I guess I might as well get paid to fish, even if it is just like pirating.

Captain punches it, and we are in Providence in eight minutes, idling up to the dock. The Fish Factory restaurant is right on the water, and there's a ton of people sitting at tables outside, eating, drinking, and laughing.

Captain leaves me there in the boat and shuffles up to the red building. I lift the hatch and begin removing the fish one by one. The slippery scales force me to squat and reach deep into their huge gills to lift them out of the hold. The people in the restaurant look on, some in amazement at all the fish we caught. Others seem disgusted by our appear-ance, as we're covered in fish scales.

Captain is walking back down the gangway, followed by three men. One of them is wearing a green sweater and pale-yellow shorts. I assume it's Hank because the other two are carrying large green fish totes, dressed in aprons and white kitchen clothes.

"Jake, meet Hank," Captain says, thumbing toward the guy who has already got one of his white sneakers resting on the side of our boat. "That's Jake. He's a great fisherman. John Cole's kid."

"Jesus Christ, John Cole's kid? No wonder you're a good fisherman; your dad could catch anything in that bay. I heard what happened to him. It's a damned shame."
This excerpt from young-adult novel Swim That Rock illustrates some of its preoccupations: loss, resilience, and fishing. Authors John Rocco and Jay Primiano drew on a long shared history around Narragansett Bay to imagine the stirring tale.
At 11, Rocco started working on Primiano's commercial shellfishing boat. He went on to work full time on his own quahogging boat; then, one winter day, it sank. "I immediately decided that I would run off to college, as it seemed a much safer choice," he relates. He spent a year and a half at URI before moving on to study design; since then he's worked in the entertainment industry and has written and illustrated many books for children.
Primiano's equally varied career includes, besides that shellfishing boat, stints as URI assistant men's soccer coach and as a municipal director of parks and recreation. He's also a poet, performer and, now, author.