Vicky Ferraro is a junior economics and political science major, who lived and studied in Cuba this spring through URI's first semester-long study abroad program there. She shares some of her experiences with us here, and more in her blog.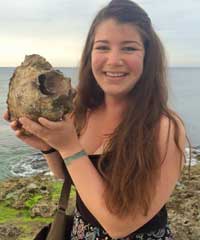 Cuba is the image of two grown men riding together on a dirt bike, carrying a 100+ pound pig between them. It's an endless stream of Soviet military vans, classic model Chevrolets, and Chinese-made cars speeding along a giant seawall (the Malacon), while waves crash over it, soaking half the roadway below. Cuba is a cup of espresso that tastes like it might have more sugar in it than coffee. It's a trip in a taxi crammed together with four strangers that change through countless drop-offs and pick-ups on the way to your destination; it's a peaceful day at the beach, and it's traveling by foot to four different markets before finally finding everything on your grocery list.
I didn't know any of this until a few months ago. Until I opened the door, and my eyes, to Cuba. I'm here with fellow URI student, friend, and political science major Rachel Flaherty, and we live in an apartment (casa particulare) in one of Havana's western suburbs, taking classes in political science, Cuban culture, and history.
The spring of 2016 is the first time URI has offered a semester-long study abroad program in Cuba, providing me with my first opportunity to travel outside the United States. Not only is this a first for URI, it has been full of personal firsts, and a time marked by dozens of historic firsts in Cuba-U.S. relations.
Not only have we studied history in Cuba this spring, we have lived it. For the last 87 years, no U.S. president had set foot here—until this March when President Obama, his family, and his delegation arrived. While we missed out on meeting with the President, we did meet with Senator Whitehouse and Congressman Cicillini, who were part of the Rhode Island political brigade that accompanied him here. We went to the monumental baseball game between the Cuban Nationals and the Tampa Bay Rays, too, hearing the Cuban and U.S. national anthems—sung one after the other—and raising our arms and voices in the same crowd waves as the president, first lady, and Raul Castro himself.
The presidential visit ended mid-week; Havana Club rum was back on the shelves after the three-day long ban, and the streets were alive again, opened up again for regular travel. Music and life didn't skip a beat re-emerging in the city, and as the Friday after the president's visit neared, classic rock from the U.S. and U.K. competed more fiercely with the usual sounds of reggaeton, rumba, and trova streaming from Havana's roofs, balconies, and restaurants, and through its alleyways.
While President Obama and Raul Castro's cordiality was symbolic of change between our two countries, the arrival of the Rolling Stones was symbolic of a change occurring right here in Cuba. Rock n' Roll, once outlawed, was paid for and embraced by the Cuban government that Friday in the form of a free Rolling Stones concert—a culmination of all the changes Cuba and the Revolution have been going through in recent years. And yes, we were there.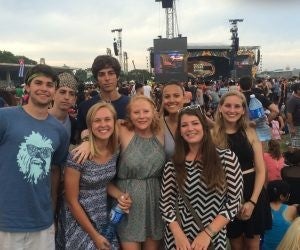 One semester isn't long enough for me to define Cuba—all I know for certain is that for me, it has been life changing. I'll never understand it, but I'll always love it. And I'm as hopeful as the Cubans are for what is in store for this developing country on a new and brighter trajectory into the future.
Photos courtesy of Vicky Ferraro