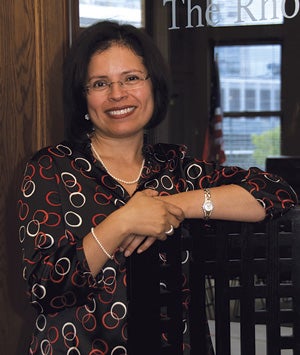 A Pillar of the Community
Girl Scout meetings and dance classes typically dominate the conversation of elementary school girls. Few give thought to sobering issues, such as immigration rights.
Yet for Anna Cano-Morales, who as a first-generation Colombian-American grew up in Central Falls and Pawtucket, R.I., adult concerns defined her lifestyle in many ways.
"As a child, I advocated for my community, often using my English skills to fill out job applications for my parents' friends and broker rental agreements between tenants and landlords. My parents taught me that my community was special, and it was our duty to help those that are in need."
These values that Cano-Morales' family instilled in her drove her to pursue a career in social services and philanthropy. Having majored in Human Development, Counseling and Family Studies at URI, Cano-Morales went on to earn a master's in social work from Rhode Island College.
She worked as a social worker before joining the Rhode Island Foundation as senior community philanthropy officer. In this role, she oversees the discretionary grant program, a source of funding for numerous nonprofits dedicated to improving people's lives through affordable housing, improved K-12 education, and other initiatives.
"Philanthropy is a magnificent tool that allows us to invest in communities and in quality-of-life issues that affect our most vulnerable populations."
When she is not at the foundation working to help others, she spends her free time—well, helping others. Cano-Morales chairs the Central Falls School District's board of trustees and is a member of the R.I. Board of Regents for Elementary and Secondary Education. Through her work with both groups, she aims to "close the minority achievement gap and to create policies that help teachers and students achieve their fullest potential."
Though many years have passed since she translated for Spanish-speaking neighbors, her belief in giving back to the community became a lifelong passion preparing her to achieve these goals and to "challenge the status quo wherever I go."
—Maria V. Caliri '86, M.B.A. '92