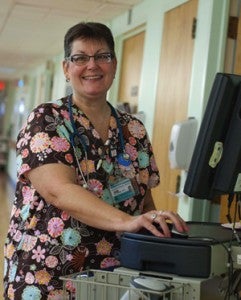 A Long and Winding Road
She earned a degree in political science from URI in 1981, but Annemarie Mullaney says she always knew she'd work in health care. Having completed a second round of education that included a B.S. in Nursing from URI in 2008, Mullaney works as an oncology nurse at Providence's Miriam Hospital.
"I tell students, 'If it's something you really want to do, you'll do it,'" she says. "I'm so happy I finally did it."
The Providence resident has participated in a program at Miriam where nurses mentor senior URI nursing majors. "We're really preparing them for their professional careers," Mullaney says. "They get a real sense of what it is to be a nurse. It's not always easy, and they need to know that now."
Praising the students she has mentored, Mullaney explains that they learn valuable lessons from the real life situations at the hospital in addition to doing patient assessments and handling admissions and discharges. "They are seeing people who are very sick, and it can be overwhelming," she says. "They see things they would not see in classrooms. They learn it's not just a 12-hour shift and then you go home, especially on an oncology floor. You take a lot of these patients' situations home with you."
Mullaney has lived in other parts of the country and put in three years of substitute teaching in high schools. Unable to find a full time job, she obtained certification as a lab technician at CCRI and spent almost 20 years doing that before returning to CCRI again to study nursing. She did all that and completed her bachelor's degree through a special URI satellite program at Miriam, taking classes there every Tuesday for several years, all the while helping her husband, who is confined to a wheelchair, raise their two children.
"It's been hard, but I wouldn't change it for the world," she says. "I love what I do."
—John Pantalone '71