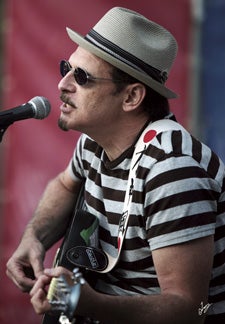 Play It Again, Toke
Some years back, Tokyo Rosenthal was at a standstill in L.A. traffic, reading the newspaper. He came across this headline: "Baby Boomers Pursuing Second and Third Careers." The fateful headline made a lasting impression, and today, Tokyo describes himself as a "poster child for second and third careers."
An accounting major at URI, "with a rock and roll minor," Tokyo had a successful post-URI career as a cable TV executive, was an amateur boxer, and at a certain point, merged those interests as a boxing commentator and promoter. But he was always a musician first and foremost.
Now, finally, music is his day job. He has earned attention and critical praise for his latest CD, One Score And Ten. His current success can be attributed to his song "Edmonton," which attracted the attention of DJs in Edmonton, Alberta, earning him radio play and the keys to the city and igniting interest in the CD.
Rosenthal describes his musical repertoire as "Americana with a few blues numbers in the mix." His musical talents are as diverse as his résumé: he is a talented songwriter, vocalist, and instrumentalist—most at home on guitar, but also practiced on piano, mandolin, and drums.
Having long ago figured that life was taking him on a journey that would feature music as an essential sideline to his other careers, he is relishing this surprising but well-deserved second chance at making music center stage.
Until recently, the highlight of his musical life was when, as a URI student, Tokyo and his band, Harpo and Slapshot, played as the opening act for America in Edwards Auditorium. There've been a lot of other highlights lately, but one of the things still on Tokyo's wish list is playing at Edwards again. "That would really be coming around full-circle for me."
Visit tokyorosenthal.com to listen to Tokyo's music, see what the critics are saying, and find out where to see him live.
—Barbara Caron