Books for Summer Reading
Ah, summer. All through the year we dream of it, enticed by images of sunny beaches and the idea of time spent relaxing, perhaps savoring a good book. Whether or not your reality measures up, we hope you'll have time for reading this summer. Here are a half-dozen new books by authors connected to URI that you might like to tuck into your beach bag. Some of these authors may be familiar, while others you may not have discovered yet. Some write fiction, others nonfiction. If your reading taste is eclectic, you might just enjoy them all!
—Gail Eastwood
---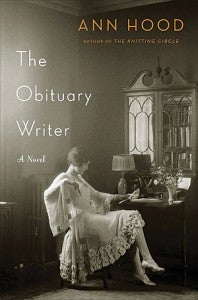 The Obituary Writer
Ann Hood '78 writes novels with deep emotional landscapes, exploring the human heart's capacity for love, grief, regret, and hope. Her newest, The Obituary Writer, is the story of two women living in different eras: Claire, a young wife in the early 1960s torn between her husband and her lover, and Vivien, an obituary writer in 1919, who still grieves the loss of her lover in the Great San Francisco Earthquake of 1906. Described as "part literary mystery and part love story," the novel examines not just the difficult choices the women face but also the social roles and mores of their separate times, while deftly weaving connections between them. The Obituary Writer was a top pick in the April 2013 issue of O, The Oprah Magazine.
Hood's bestsellers include The Red Thread, The Knitting Circle, and Somewhere Off The Coast Of Maine. Her memoir, Comfort: A Journey Through Grief, about losing her five-year-old daughter, was a New York Times Editor's Choice, named one of the top 10 nonfiction books of 2008.
A Rhode Island native, Hood majored in English at URI and pursued graduate studies in American literature at New York University. Her career as a flight attendant ended just as her writing star began to ascend. A columnist for multiple magazines, she has earned awards for spiritual writing and short fiction, as well as two Pushcart Prizes. Between writing and book tours, she teaches writing in Providence and New York.
---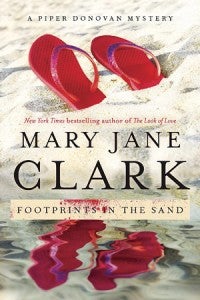 Footprints in the Sand
New Jersey native Mary Jane (Behrends) Clark '76 majored in journalism and political science and got her first TV news experience in an internship obtained through URI at WJAR in Providence. In three decades at CBS News's New York City headquarters, she worked her way from desk assistant to producer and writer. To cope with a personal turning point in the early 1990s, Clark added fiction writing.
Her first effort, Do You Want to Know A Secret? eventually sold and became the first in her "KEY News" series—12 books (so far) grounded in her experience with the broadcast news world. Mixing classic puzzle-solving mystery plots with the high suspense of thrillers, the stories have put her on bestseller lists and bookshelves in 23 countries. To thank URI for its part in her success, Clark endowed a scholarship for journalism majors, based on financial need.
Her latest book is the third in her new "Wedding Cake" series, centered on Piper Donovan, actress and sometime wedding cake designer. Footprints in the Sand finds Piper in Sarasota, Florida, for a cousin's winter wedding, but things quickly start to go wrong. Someone has secrets, and a killer lurks among the characters. We trust that Piper will solve the mystery before she, too, becomes a victim—or this would be a very short series—but the question with mysteries always is: How? And will she solve it in time before more victims turn up? Clark writes with a contemporary edge that ratchets up the suspense and should make this series as popular as her first.
---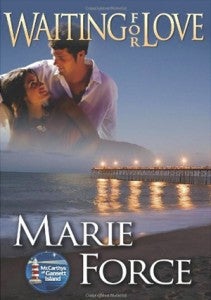 Waiting for Love
The newest contemporary romance by Marie (Sullivan) Force '88 hit all the major bestseller lists, including the New York Times for print and e-book sales. Waiting for Love, her 25th book, is the eighth in her "McCarthys of Gansett Island" series. Force has also penned seven stand-alone novels, her "Fatal" suspense series, and the "Treading Water" series.
Gansett is a fictionalized Block Island, the perfect setting for a summer fling. Adam McCarthy and family friend Abby Callahan are both on the rebound, so when Adam discovers Abby is set on releasing her wild side for a change, he determines she should only do so with him. Trust issues and serious challenges around them test the relationship when their fling starts to become something more. This time, is it love? Force creates characters her readers never tire of, including Grace, a URI College of Pharmacy graduate. People and relationships from Force's previous books reappear in each new one. She keeps the bedroom doors wide open, so be aware that her characters' sexual encounters are hot!
This Aquidneck Island native cut her writing teeth at the Narragansett Times after earning degrees in journalism and political science from URI. With her husband in the Navy, she lived in Spain, Maryland, and Florida; got a master's in public administration; and as communications director for a D.C.-based nonprofit, became editor-in-chief of a national trade magazine. Now settled back in Rhode Island, Force is writing full time. By the time you read this, Fatal Mistake, Book 6 in her "Fatal" series, will have just been published.
---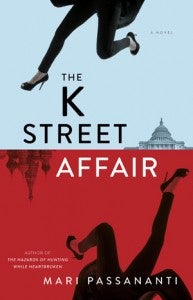 The K Street Affair
Mari Passananti '95 writes with a sassy, irreverent voice, as evidenced in her first book, The Hazards of Hunting While Heartbroken (2011). Her new book, The K Street Affair, is a political/spy thriller delving into terrorist plots and corporate conspiracies of exactly the sort we might fear really lie behind cover-up headlines.
Heroine Lena Mancuso, a junior lawyer in a Washington D.C. law firm, gets quickly drawn into a spy game she is utterly unprepared for after a bomb explodes in the D.C. subways. Passananti tells the story in sharp detail entirely from Lena's point of view, and that sassy voice comes through intact in Lena's wry observations despite thrills and danger. The book, a Barnes & Noble Book Club selection, offers fast-paced action and nice plot twists paired with a fresh approach to the genre.
Passananti majored in communication studies and minored in English at URI. A native Rhode Islander raised in North Kingstown, she chose law instead of journalism for her graduate degree, earned at Georgetown. She worked in a big D.C. law firm and as a legal head hunter, experiences that add authenticity to her current book. Passananti is now a full-time writer and mom, living in Boston.
---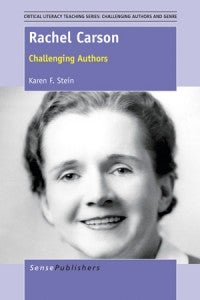 Rachel Carson
A book about marine biologist Rachel Carson seems a natural to read at the beach. Part of the "Critical Literacy: Challenging Authors and Genres" series, Rachel Carson, by URI English Professor Karen Stein, M.L.I.S. '05, examines Carson's works and life, focusing on her continuing influence across a broad range of environmental and political issues. Carson's monumental work Silent Spring has been called "one of the most significant books of the Twentieth Century" for raising our awareness of environmental pollution and changing the way we view our world.
Stein, who grew up in Brooklyn, first encountered Carson's "sense of wonder" while visiting friends on an island off Nantucket. They explored beaches and tidal pools with Carson's book Edge of the Sea in hand, and Carson's ability to both inform and inspire took hold. Stein has taught Carson's work in her courses, and her enthusiasm and clear prose give her book appeal that reaches beyond an academic audience.
Stein's other books, on Margaret Atwood and Toni Morrison, also celebrate women writers who have significantly influenced our society. Stein herself has been twice honored as Woman of the Year, by the URI Association of Professional and Academic Women in 1993, and the Rhode Island Commission on Women in 2007. She has served as chair of the English department and director of Women's Studies at URI.
---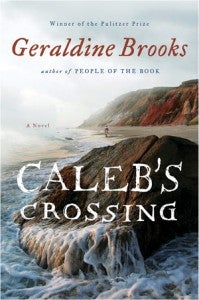 Caleb's Crossing
URI 2013 Common Reading Book
Geraldine Brooks is the Pulitzer Prize-winning author of an eclectic collection of books. An Australian-born writer and journalist, she has tackled topics as varied as Middle Eastern women, the plague in 17th century England, and the American Civil War.
Her newest novel, Caleb's Crossing, returns to the 17th century, but this time on Martha's Vineyard, where Brooks resides when not in Sydney. Based on true events, the novel portrays the relationship between a minister's young daughter and Caleb, who became the first Native American to graduate from Harvard.
The book touches on a wide range of issues, from freedom of religion and education to issues of gender and Native American culture. Incoming URI freshmen and their advisors, faculty, and staff have all been invited to read this book over the summer to engage in a common experience for discussion. The University will open a blog for comments in July, and the book will be used as part of this fall's Honors Colloquium on "Great Public Schools: Everyone's Right? Everyone's Responsibility?" Brooks will speak at URI on September 24, first to students and then as an Honors Colloquium speaker.