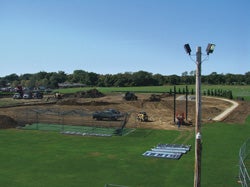 The URI baseball team won more games than any other Division I program in New England en route to qualifying for its sixth-consecutive Atlantic 10 tournament—the conference's longest active streak. This spring, the Rams will have a new field in place to start the 2009 campaign.
Thanks to a generous $1 million gift to URI Athletics, a new playing surface is being installed at Bill Beck Field. The new surface (which will be the same artificial surface used by the Minnesota Twins, Tampa Bay Rays, and Toronto Blue Jays) will allow the Rams to spend more time on the field throughout the year.
Also included in the renovation project is a new backstop, fencing, bullpens, and scoreboard. Those wishing to extend additional support should contact head coach Jim Foster at 401-874-4550 or jimfoster@mail.uri.edu.