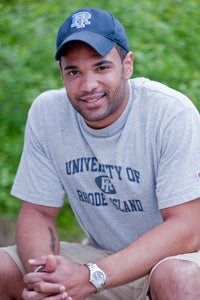 Bringing Hope Home to Central Falls
Brandon Brown's former high school gained national attention last spring when the district's superintendent fired the entire teaching staff because of poor student performance.
A double-major in sociology and political science with a minor in African-American studies, Brown has applied for multiple positions in this school district; his goal is to work in the community to help turn Central Falls around.
Brown was the first URI student to serve consecutive terms on the Rhode Island Board of Governors for Higher Education, and he spent the spring of 2009 as a program coordinator for the Young Voices Central Falls/Scope program. He was also a camp counselor and activities coordinator for the URI Transportation Center and has been a mentor with Rhode Island Children's Crusades.
"The University has been an opportunity for me, as well as for my peers, to absorb information and find our own place in the world we are in, based not only on the history we come from, but also the future we are mutually working to create," Brown said.
While at URI, Brown worked with several campus leaders and was especially close to President Robert L. Carothers and Gerald Williams, director of URI's Talent Development program. He also worked with the Rev. Bernard Lafayette Jr., former director of the Center for Nonviolence and Peace Studies.
While he sees obstacles around him, Brown maintains hope for a better tomorrow: "I subscribe to a philosophy that places a heavy emphasis on positivity. Positivity is transformative. It flows from one person to another, and we have an opportunity and the full capacity to generate positivity within ourselves and share that with others around us."
It is that outlook that makes Brown believe he can have an impact in Central Falls: "I believe that the American Dream is most prominent in places like Central Falls. Spend some time in Central Falls walking with me, and I'll point out people who are striving for and achieving the American dream."
—Shane Donaldson '99