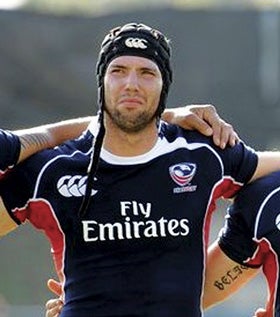 World-Class Rhody Rugger
Not quite five years ago, Brian Doyle was representing URI on the rugby field. These days, he's representing the United States in that rough and tumble game. Doyle recently returned from Argentina, where he played for the U.S. "Select" squad—a team of elite players shooting for a spot on the national team—against teams representing Canada, Argentina, and Tonga.
Doyle, 26, played for the U.S. national team, the Eagles, on three occasions in 2008. He says pulling on the U.S. jersey never gets old: "You don't know when you'll get the chance again. I get pretty worked up when I hear the national anthem."
Doyle, 6' 7" and 250 pounds, plays "lock" in the heaving heart of the eight-man scrum. After leaving Kingston, the Rockland, N.Y., native emerged as a world-class rugby player both in the U.S. and overseas. He joined the New York Athletic Club in the U.S. "Super League," and helped NYAC to national championships in 2008 and 2010. This past season, NYAC went undefeated before stunning San Francisco Golden Gate in front of a Bay Area crowd in a 28-25 nail-biter, with Doyle putting forth a "monstrous" game, in the words of Rugby magazine.
In 2009, Doyle spent a season in Sydney, Australia, playing professionally for Northern Suburbs and learning the nuances of the game in that rugby hotbed.
NYAC coach Mike Tolkin says Doyle, formerly URI's rugby captain, has come a long way since first turning up as athletic but raw rugby talent. "Brian has emerged as one of the leaders of NYAC," says Tolkin, "and one of the best rugby players in the country."
Doyle, who is working in sales in Manhattan, hopes to add to his impressive rugby scrapbook by earning a spot in the U.S. Eagles squad when it treks to New Zealand for the 2011 World Cup. "Those are the moments you know you'll live with," he says, "for the rest of your life."
—Michael Malone '91