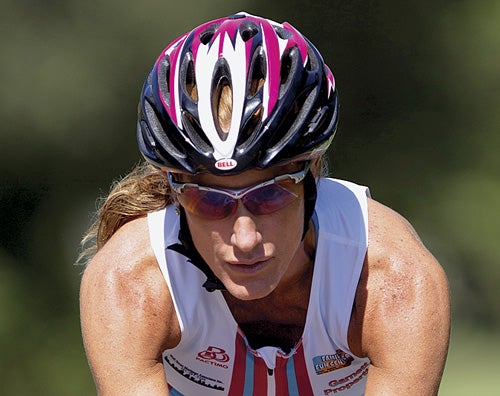 True Grit
It only took Carlene Capobianco-Messinger '89 three hours and six minutes to swim 1.5 miles, bike 18 miles, and run 8 miles—not to mention that the swim was across San Francisco Bay in 53.9˚ water, the biking was through the hilly northern California countryside, and the run was along the sandy beaches of the Pacific Ocean.
It was June 2012, and Capobianco-Messinger was participating in the Escape from Alcatraz Triathlon, her 17th triathlon since 2009. She finished 5th in her age group.
Capobianco-Messinger's journey started when she took up jogging when her youngest daughter began kindergarten in 2006. Then she re-discovered her childhood love of swimming. Next she added biking and was training 15 to 18 hours a week. When she completed her first triathlon in 2009, she placed 21st out of 211 women.
Currently, Capobianco-Messinger, who lives in Upper Saddle River, N.J., is preparing to compete in the 2012 ITU World Triathlon Series to be held in Auckland, New Zealand in October. She is one of 18 women who qualified to be part of Team USA in her age-group.
The grit that carries Capobianco-Messinger through each triathlon spills over into the rest of her life. In March 2012, three months before the Alcatraz event, she was in the hospital fighting for her life against a blood infection. "I was a day away from my organs failing," she remembers. Her recovery felt slow and difficult, but if there's one thing a triathlete knows about, it's perseverance.
"I feel like I'm such a good role model for my children," says Capobianco-Messinger. "When I'm in competition and feel like I can't make it, I think about telling those three girls that their mom didn't finish, and I realize that would be impossible for me!"
Her record speaks for itself. "I just want to be the best I can be," she says. "I'm competitive and I want to win. And I hope I can inspire others as well."
—Bethany Vaccaro '06