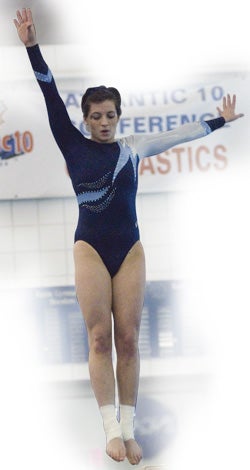 On September 15, 2008, Rhode Island gymnast Casey Pereira was named as one of four Eastern College Athletic Conference athletes to receive the ECAC Award of Valor.
Pereira was diagnosed with non-Hodgkins lymphoma three days before practice began in her sophomore season. Sometimes sick, bald, and nauseous, Pereira still made it to every meet during the 2006 season.
After waking up at 5 a.m. every Wednesday for seven-hour sessions of chemotherapy, blood work, and CAT scans in Boston, Pereira returned to the mats for the start of her junior season. Weakened from her treatments, the once strong Pereira was unable to do push ups or run around the block without getting winded. She managed to work herself back into shape through grueling workouts and went on to earn ECAC Specialist of the Year honors.
As a freshman, Pereira helped the Rams to a second place finish at the ECACs; as a junior, she helped URI to a third place showing at the ECAC Championship. During the 2007-08 season, she was a key member of the Rams' second-place squad at the ECAC Championship.