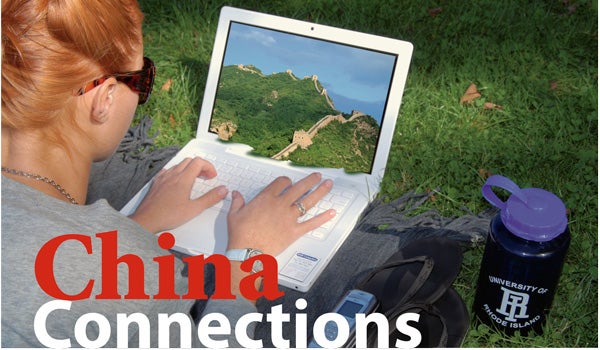 As China strides across the global stage to resume its role as a superpower, the University establishes a Confucius Institute and focuses its Fall 2007 Honors Colloquium on the country with the fastest-growing economy. Meanwhile Hasbro, a worldwide leader in toys and games, helps URI broaden its international engineering and business programs to include the Chinese language.
Hasbro Gift Supports Study, Internships in China
Hasbro Children's Fund, the charitable arm of toymaker Hasbro, Inc., contributed $500,000 to the Making a Difference campaign to support international business and engineering education.
"International education is a critical element of many academic programs. Hasbro's contribution will dramatically expand opportunities for our students to experience other cultures by living, working, and studying abroad," said President Robert L. Carothers. "This gift will have a lasting impact on the lives of our students."
The majority of the funds will be used to establish the Hasbro Scholars Fund, which will provide merit-based financial support for undergraduate students pursuing business and engineering internships and studies in China.
"Hasbro is particularly pleased to support students who plan to study and intern in China, whose thriving economy is a driving force behind an increasingly global marketplace," said Hasbro President and CEO Alfred J. Verrecchia '67, M.B.A. '72, Hon. '04, who noted that most of Hasbro's products are manufactured in China. "We believe that students with cross-cultural backgrounds, especially those who speak Chinese and understand the culture, will be better equipped to become leaders at companies with international operations."
Students enrolled in the International Engineering Program (IEP) and International Business Program (IBP) will be the primary beneficiaries of the Hasbro gift.
The IEP requires students to major in an engineering discipline and a foreign language and then spend a year abroad studying and interning at an international company. The innovative program is a national model that attracts top engineering students from throughout the country.
"The financial obstacles of going to the Far East are fairly considerable, so the Hasbro gift will help meet the needs of many students who seek experience in China," said IEP Executive Director John Grandin.
The University's newly launched IBP is a five-year program modeled after its engineering counterpart and requires foreign language training and an internship abroad. Students in the program study business principles from a global perspective while also studying the history, economy, politics, and culture of a foreign country.
"Through Hasbro's generous gift, students who are currently freshmen or sophomores and have completed a significant number of courses in a foreign language will be able to enroll in the program," said College of Business Dean Mark Higgins, who has made international education a priority. "These students will be able to take advantage of internship opportunities through our partner institutions in China."
By Todd McLeish
URI & China Become Education Partners
A Confucius Institute will be officially established at the University this fall, making URI one of only 20 educational institutions in this country to have such a designation. There are 150 Confucius Institutes in the world.
The Institute creates formal ties between the University and China's teaching office to strengthen and promote educational programs and exchanges, broadening global opportunities for students, faculty, and the larger community. The Institute is not a physical structure, but rather two offices that will oversee Chinese and URI educational offerings.
Opening ceremonies will be held Oct. 27, 2007, with dignitaries representing the University, the state, and China—possibly including a direct descendent of Confucius, one of the most famous thinkers, educators, and philosophers in Chinese history.
To celebrate the official opening, the Chinese Yue Opera Butterfly Lovers will be held at Providence's Veterans Memorial Auditorium on Oct. 27. The performance will be a feast for the eyes and ears and expose the audience to a unique Chinese art form.
"China is not only an awakening giant, it's a walking giant," says Yan Ma, a professor in the Graduate School of Library and Information Studies who will direct the Institute. Ma is a cultural matchmaker whose familiarity with China and the University has been an invaluable link with the Chinese National Office for Teaching Chinese as a Foreign Language, commonly known as Hanban.
In an agreement signed last January by President Carothers and Xu Lin, director of Hanban, URI's Confucius Institute will receive $100,000 from the Chinese government to support Chinese language and cultural programs. In addition, Hanban has agreed to donate 5,000 books, compact disks, and digital videos to URI's Library plus other materials for online courses. Plans call for the initial five-year agreement to be extended an additional five years.
The University has offered Chinese language classes since 2004 in response to a student petition presented by Ma the previous year. Last year, Hanban financed a Chinese language instructor, Wen Xiong, who taught 75 students taking beginning or immediate Mandarin. Last summer Hanban agreed to fund two more language instructors and support the opera and other cultural projects.
A graduate of Zhejiang University, Ma provided the link between her alma mater and the University's International Engineering Program so that students can intern in China. She also was the connection for the newly launched College of Business Administration's International Business Program, which mirrors the engineering program.
Ma, an established scholar and researcher in library and information science studies and visual literacy and news media, launched the first program in North America to teach librarians and information professionals how to provide services related to China and Chinese studies. In June, she took a group of students to China to study Chinese librarianship.
China Rising
The 2007 Honors Colloquium, China Rising, explores China's dramatic transformation during the past three decades, a transformation that has returned it to its historic global prominence. The colloquium opened Sept. 12 and continues with weekly lectures until Dec. 5.
Historian Timothy George and Yan Ma, a professor in the Graduate School of Library and Information Studies who will direct our Confucius Institute, are coordinating the semester-long series. George studied modern Chinese history as part of his Ph.D. studies at Harvard, studied the Chinese language in Japan and China, and taught English at Zhejiang University. He teaches the history of modern China at URI and coordinates our Asian Studies minor.
Here George answers some questions about the series:
Why China?
China is at the dawn of a new era. The world's largest producer of coal, steel, and cement, China has a ravenous appetite for raw materials and foreign investments and is rapidly becoming a dealmaker on the international political stage. While China is familiar to American shoppers, its culture, language, and history remain largely a mystery. Not knowing about China is simply no longer an option.
Why now?
This is a critical transition period for China and its place in the world, as well as for Americans' understanding of China. It is no longer a very poor country, but it is not yet rich. It is still run by the Chinese Communist Party, but has one of the world's most dynamic capitalist economies. Its global importance for everything from stock markets to fashion design to military strategy is growing.
What's so dazzling about China's rise?
When Deng Xiaoping took control of China in the late 1970s, a few years after Mao Zedong's death, a quarter of all poor people in the world lived in China. By the time Deng died in 1997, only a tenth of the world's poor lived in China. No major nation has ever seen such rapid development sustained for so long. This has brought increasing ties with the rest of the world—as well as dramatic increases in living standards and the development of a growing middle class—but also many challenges, including pollution, growing gaps in income and in access to education and health care, and political uncertainties.
What areas does the colloquium cover?
Issues ranging from global strategy and cooperation, the environment, U.S.-China relations, education and culture, labor, Taiwan, dissidents and democracy, economic issues, business with China, film, and women. There are lectures, panel discussions, and photo and textile exhibits. For the most up-to-date schedule, go to uri.edu/hpr/.
Any big names coming?
David Sanger, New York Times senior writer and White House correspondent; Orville Schell, author of numerous books on China and one of America's leading sinologists; Peng Xiaolian, one of China's leading young filmmakers and winner of a 2004 Golden Rooster Award (China's Oscar); and Lien Chan, a leading figure in expanding the dialog between Taiwan and the mainland.
By Jan Wenzel '87