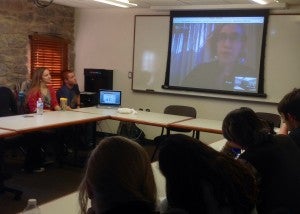 Bridget Griffith '11 pays a remote visit to a URI Honors classroom to talk about epidemics, emergency medical treatment, and how to navigate a public health career.
Bridget Griffith is interning as an epidemiology fellow at the African Federation for Emergency Medicine (AFEM).  Griffith, who completed her master's in public health at Yale earlier this year and will be entering a doctoral program next year, took a break from her work at AFEM to teach a session of Professor Roger LeBrun's honors course, "The Global Challenge of Emerging Infectious Disease," via Google Hangout from her temporary home base in Cape Town, South Africa.
At AFEM, Griffith is working on a trauma registry, which will allow better tracking of emergency medical treatment. With better statistics about who seeks treatment—and where, why, and how—emergency medical facilities can be more prepared, responsive and efficient. She recently attended the African Conference on Emergency Medicine with representatives from across the continent. At the conference, she worked with other participants to make recommendations and set an agenda for the development and implementation of emergency care in the region.
A former teaching assistant for this course, Griffith challenged the students to ask and answer questions about a wide range of public health topics—access to emergency medical services, women in public health, media response to Ebola, and urban vs. rural health issues in developing countries. And she readily answered questions about what it's like to be an American woman living in South Africa.
Griffith pointed out one of the differences between emergency medicine in the United States and developing countries, where poor roads and lack of transportation can be barriers to care, is the time it takes people to reach medical services. In the U.S., EMS responders generally get patients into a doctor's care, with medication if needed, within an hour, as teaching assistant Bill Law '15—who is an Emergency Medical Technician (EMT-B) with URI Emergency Medical Services and Charlestown (RI) Ambulance Rescue Service—pointed out. In developing countries it can take hours or even days for people to reach needed medical services, so doctors are treating a whole different set of symptoms and pathologies than they would be treating with more immediate treatment.
For her URI Senior Honors Project, Griffith (at right, on a previous trip to Africa—Kenya—where she studied tsetse flies)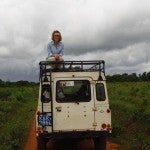 created a program called "Students Teaching Students," emphasizing interactive learning, peer-to-peer teaching, and guest facilitators. So it was fitting for her to return (remotely) to a URI Honors classroom as a guest facilitator, working with LeBrun, his current teaching assistants—seniors Sarah Moffitt and Bill Law, and a room full of honors students with lots of incisive questions and smart, thoughtful answers.
Griffith's advice for these future public health professionals? "Learn French; It's the language of public health and medicine. Spanish is good too. Pay attention in that statistics class. And most of all, step back from your learning and doing to think about what you really want to do. Know your strengths and skills and put yourself where you can do the most good."
+
The first question Griffith posed to the class was related to her own educational background:

Why do you think Yale's School of Public Health has separate graduate programs for epidemiology of microbial diseases and chronic disease epidemiology?
Struggling to answer that one? Here's the answer, quickly and eloquently provided by one of LeBrun's students:

Microbial diseases are better addressed at the systems level, while chronic diseases are better addressed at the individual level.
If the intellectual exchange in this room was any indication, the future of public health is in some pretty smart hands.