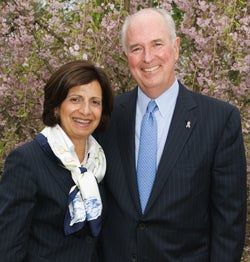 Richard J. Harrington '73, Hon. '02, former president and CEO of The Thomson Corp., and his wife, Jean, donated $5 million to support URI's new School of Communication and Media, which will be renamed in their honor. The gift is part of the University's Making A Difference capital campaign that seeks to raise $100 million.
"Jean and I are delighted and honored to be able to give back to this great institution that was instrumental in forming the foundation for my career success," said Harrington. "This gift reflects our heartfelt commitment to supporting public universities, which unlock doors of opportunity for students who might not otherwise be able to go to college. As the son of Irish immigrants who could not afford college education, I am grateful for the doors that URI unlocked for me."
Harrington's 11-year tenure as president and CEO of Thomson culminated with the company's acquisition of Reuters to form Thomson Reuters in 2008. As a component of the Harringtons' gift, the Woodbridge Company, Ltd., of Toronto, the Thomson family's holding company and the majority shareholder in Thomson Reuters, as well as other private donors, will give $500,000 in recognition of Harrington's more than 25 years of service with the corporation.
Thomson Reuters has also pledged ongoing support to URI and The Harrington School of Communication and Media, sharing its media resources and other assets, as well as its people.
"This is an extraordinary gift from Dick and Jean," said URI President Robert L. Carothers. "The ability to invest in the school at its earliest stage will help us achieve a distinct niche for the program, one based on the latest thinking on communication technology."
"As someone who has seen the world of information evolve from print to digital, and now to blogs and Twitter, I believe it is critical for URI to prepare its communication students for leadership roles in the next generation of media and communications that is increasingly changing at breakneck speed around the globe," Harrington said.
The school brings together five units within the College of Arts and Sciences: including the Department of Communication Studies and the Department of Journalism (which offer the interdisciplinary major of public relations); the Graduate School of Library and Information Studies, Writing and Rhetoric; and the Program in Film Media. The gift is expected to facilitate the creation of a dedicated home for the new school in the near future.