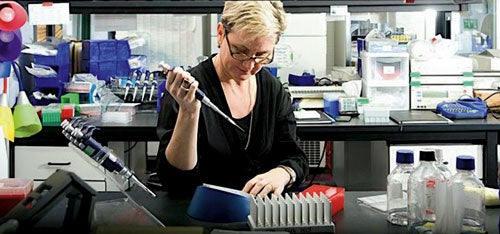 Professor Annie De Groot, who joined our College of the Environment and Life Sciences earlier this year, was awarded a $13 million National Institutes of Health grant to pioneer the development and application of an integrated gene-to-vaccine program targeting emerging infectious diseases. It was the second multi-million dollar NIH grant awarded to URI researchers in recent months, coming on the heels of an $18 million award to our College of Pharmacy in May
"This grant is a dream come true," said De Groot, who is also president of the biotechnology company EpiVax. "The TRIAD grant provides a team of researchers based in Rhode Island with the exciting opportunity to collaborate across disciplines and to teach the next generation of scientists to use tools that are accelerating the development of vaccines and therapeutics."
"While the NIH grant is Professor De Groot's first award since joining the URI faculty, she has an outstanding track record of earning significant funding in her previous position at Brown University and at EpiVax, now totaling more than $25 million," said President David M. Dooley. "I am confident that her work will continue to strengthen the research enterprise at the University and will provide exciting opportunities for technology transfer." For more information about De Groot's program, visit immunome.org.
URI's College of Pharmacy was awarded a five-year, $18 million grant by NIH's National Center for Research Resources to continue to build biomedical research capacity in Rhode Island with collaborating researchers at URI, Brown University, Rhode Island College, Providence College, Salve Regina University, and Roger Williams University. The program also reaches out to the Community College of Rhode Island for student training.
One of the largest grants in the University's history, the grant is the third in a series of multi-million dollar awards the agency has given URI for this purpose since 2001 for a total of $42 million.
"The new funding will support biomedical and behavioral science research projects of at least 22 faculty from the network institutions," said Biomedical Sciences Professor Zahir Shaikh, principal investigator and grant program director since its inception.
Photo courtesy of Annie De Groot.