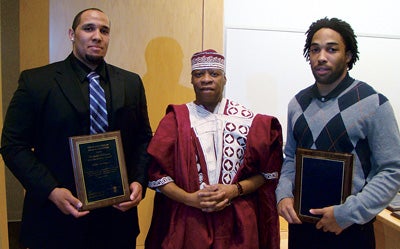 Marquis Jones (men's basketball) and Willie McGinnis (football) were recognized on April 4 at URI's annual Black Scholar Awards. McGinnis received the Jackie Robinson Scholar-Athlete Award, and Jones received the Harvey Robert Turner Award for Outstanding Service to the URI community.
This past season, McGinnis anchored a defensive line that helped propel the Rams to five wins, including a 4-1 mark at Meade Stadium. He tallied 41 tackles. Off the field, McGinnis earned a spot on the CAA All-Academic team.
Jones was named to the Atlantic 10 All-Defensive team. The 6ft. 1in. senior point guard ranked 10th in the league in steals, notching 44 total swipes—a 1.5 steals per game average. Jones also posting a career-high in scoring 11.4 points per game, which ranked second on the team for the 2010–2011 season.
Former URI football player Ibrahim Abdul-Matin '98 was keynote speaker at the Awards Ceremony. In 1999 Abdul-Matin won the Martin Luther King Jr. Award for Outstanding Leadership and Contribution to the University Community. He has published a best-selling book, Green Deen: What Islam Teaches about Protecting the Planet. Currently, he is a policy advisor in the New York City Mayor's Office on long term planning and sustainability. For more information, go to uri.edu/hsa/index.html