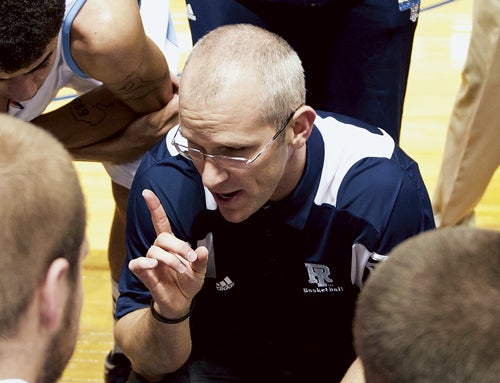 Third-year men's basketball coach Dan Hurley, who had been one of the lowest-paid coaches in the Atlantic 10, will stay in Kingston under the terms of an innovative deal designed to guarantee him $1 million a season by 2017–18 without using further state funds.
"We understand the importance of building a championship-caliber men's basketball program," Hurley said. "Rhode Island is a great state in which to live, raise a family and work. My family and I are proud to call Rhode Island home."
The restructured contract runs through the 2020–21 season. It leaves his base salary at $300,000, as agreed when he came to URI in 2012; but will add projected gate receipts from ticket sales to make up the remainder, with the URI Foundation pledging to make up any shortfall. NCAA tournament money would pay the Foundation back.
A buyout provision means Hurley, or any school looking to hire him, would have to come up with $1 million or more for him to break the contract, money URI could use to hire a new coach.
The Rams finished the 2014–15 season with an overall record of 23–10, with 13–15 in league play and a share of second place in the Atlantic 10 Conference.