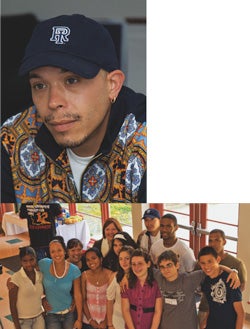 Nonviolence now: It's a message Jonathan L. Lewis is tirelessly advocating.
Lewis is the national nonviolence coordinator for The Gathering for Justice, an organization working to end juvenile injustice—the incarceration of youths tried and convicted as adults. The Gathering has a three-pronged approach: to organize conferences to teach (Martin Luther) Kingian Nonviolence Education, to coordinate efforts with existing social action groups, and to support state- and national policy initiatives fighting juvenile injustice.
Lewis, a URI graduate student whose undergraduate work is in human development and African-American history, conducted a Gathering at the University this past July. Students from North Kingstown, South Kingstown, and Central Falls high schools participated, as did a number of "elders," adult community members committed to nonviolence. The high school students left the two-week program as certified instructors of a program of nonviolence education targeted towards eighth-grade students.
Lewis's mission is to teach students "to put positive peer pressure on their brothers and sisters, to plant those seeds of positivity and alternatives to violence, and to plant those seeds now."
"Violence is a choice. It's not the only option. Conflict is not negative in itself. It's how we respond to that conflict that creates either constructive or destructive ends."
Students spent more than 10 hours a day in instruction, Lewis said. "And their enthusiasm has only grown. You should see the synergy that happens."
Lewis comes from a family committed to social action. His mother conducts violence prevention programs in juvenile facilities. His father ran similar programs for the Mashantucket Pequots. Lewis family members regularly volunteered in soup kitchens and walked in hunger marches.
Modeling social action for youth is imperative, Lewis says. He urges adults to mentor youth in their communities: "Kids are dying for mentors. They want someone to listen to them and to help them figure out what to do. We want to help those kids."
—Marybeth Reilly-McGreen