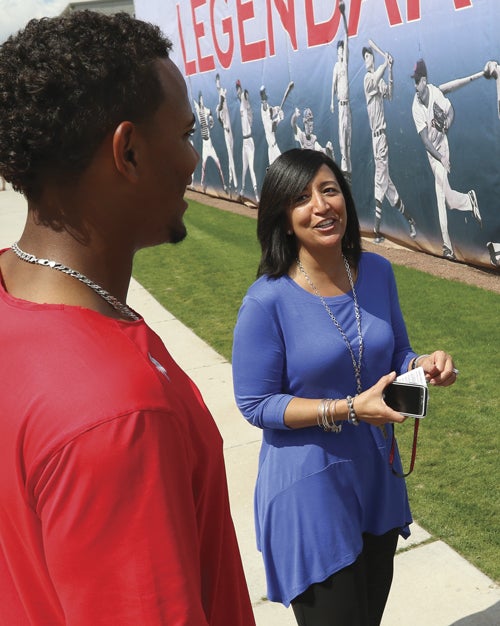 She doesn't like the spotlight, and she likes the reason she's in it even less. Raquel Ferreira '92 is one of only three women to attain VP status in major league baseball operations, a promotion she earned after 17 years at the Red Sox. "This is a male dominated industry," says the Cumberland native. "You have to constantly prove you belong."
It's been quite a journey, from a child obsessed with baseball, to a college graduate accepting a secretarial job just to get a foot in the door, to years being the first point of contact for excited—but often bewildered—players. And let's not forget that along with those players (many of them teenagers, some also recent immigrants and their family's breadwinner) have come their anxious parents.
Ferreira, whose role as off-field fixer keeps expanding, handles it all with empathy and vast practicality—traits she learned from her own immigrant parents. "Everybody has a story," she says, "and I've always had a soft spot for hearing it." That's doubtless part of why she belongs, even though—or maybe, because—she's the only woman in the room.
Her advice for anyone wanting to follow her path: "No job is too small. And even if it's grunt work, never, ever act like it's something you don't want to do."
—Pippa Jack