Milken Educator Award Winner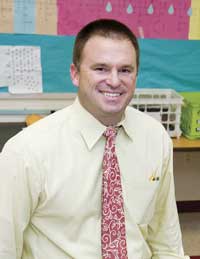 During a school assembly on Wednesday October 19, 2011, Pilgrim High School science teacher Michael Lobdell was initially preoccupied by all of the things he had to do that afternoon.
He was unaware that by the end of the assembly, the Warwick school gym would resound with cheers as he accepted a Milken Educator Award and check for $25,000 from the Milken Family Foundation while dignitaries like Gov. Lincoln Chafee and Congressman James R. Langevin (D-Dist.2) looked on.
During the ceremony, Gov. Chafee praised Lobdell saying, "he is always forward-looking and sees the opportunities for improvement in his own practice."
For the past 25 years, the Milken Family Foundation has sought out and recognized outstanding elementary and secondary teachers like Lobdell across the country.
During the six years that Lobdell has been at Pilgrim High, he has developed a teaching style centered on inquiry, critical thinking techniques, and problem-solving strategies. Described as a "hands-on" teacher, Lobdell runs his classroom like a workshop, assimilating technology, film, and literature into his lessons.
But his commitment to his students doesn't end when the bell rings. He started and runs a Homework Club open to all Pilgrim High students and participates in the School Improvement Team. During the summer, Lobdell works for a research program at Rhode Island College that gives high school students the opportunity to conduct DNA research.
Lobdell holds a bachelor's degree in zoology and an M.A. in education from URI. He can still recall conversations with his undergraduate advisor that would eventually help steer him into a teaching career. He also credits the encouragement of his wife Sarah Howard Lobdell '96, the associate director of Alumni Relations at URI.
During the ceremony, Lobdell thanked the students and his fellow teachers at Pilgrim High for their support. "My door is always open," he promised. "I'll continue doing my best for you."
—Bethany Vaccaro '06