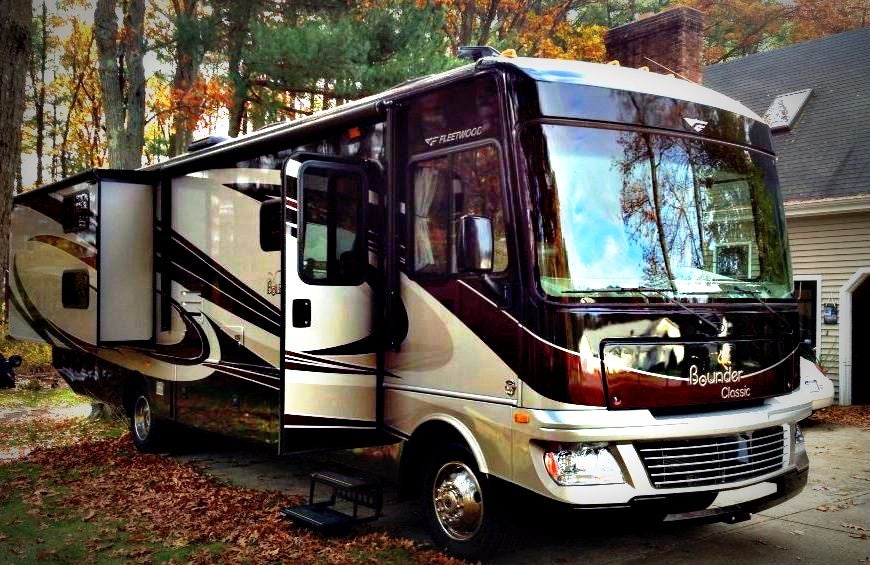 Pat and Joan Cronin '91 and their four children made their television debut this summer when they starred in an episode of Going-RV on the Great American Country Channel (the episode will have repeat airdates—check here for full listings information).
We checked in with Pat and Joan to find out about the experience and to ask them what they love about their RV life.
1. Give us your best TV Guide-style description of Going-RV for alums who aren't familiar with it.
Joan: It's a show about couples and families who are looking for a new RV to fit their travel needs. You watch the family from the process of looking for an RV right through to taking it on the first vacation.
2. How and why did the Cronin family get selected to be on the show?

Joan: Pat found a casting call on a Facebook page and asked me if I thought it would be fun. Truthfully, he did most of the legwork and surprised me when he said that they were interested in us. I was completely shocked when he told me we'd been chosen! When the crew was here to film, they told us we were selected because we were one of the few applicants from New England, and they loved the idea that we had four kids.
Pat: Here's an excerpt of the application I initially sent: "I recently read on Facebook that you are interested in finding families that recently purchased a new RV. My family just purchased a 2014 Fleetwood Bounder 34b motor home.  We began RV-ing about six years ago after much pushing from me. We  purchased a used travel trailer and loved it—we even pulled it from Rhode Island to Disney our first year. We upgraded to a new travel trailer a year later and recently bought a new Class A after again much pushing from me. This will make those longer trip to Myrtle Beach, Florida, and other areas much more comfortable for our family of six. It goes without saying that I love camping and my boys do, too.  My wife says that I talk about nothing else… LOL."
3. You spent two-and-a-half days being followed by a TV crew — what was that like?

Joan: It was a blast! We had a ton of laughs with the crew, who made the experience so much fun. They were awesome with our kids and very understanding when one (or more!) were, shall we say, less than cooperative. They referred to us as "the talent," which we all found completely amusing. You definitely learn a lot about what goes into making a TV show! Lots of down time, lots of takes of the same thing, with slight variations. It really was one of those once-in-a-lifetime kind of experiences!
Pat:  Consistency in the weather and what we wore seemed to be the most crucial things because the filming was not done in the order that you see on the show. We had to shift the schedule one day when the forecast was for rain and we hadn't finished filming a particular exterior scene. So the next day we had to finish that scene. It was important that the weather and our appearances remained the same throughout, and that we remembered exactly what we wore each day (and no clothes with logos—not even a URI sweatshirt!
4. Give us a little history of how you and your family got hooked on RVs.
Pat: I RV-ed growing up and enjoyed it very much. My family did short and long trips, and some summers we even spent a month at a time at a local campground where my father would commute back to Providence for work. I made good friends and built a ton of childhood memories that I wanted for my kids. I also selfishly missed the campfires and adventures that RV-ing provides.
Joan: Unlike Pat, I was a very reluctant camper (meaning: I really had no desire to camp). Pat finally convinced me to give it a try, with the promise that it would be a great way for us to travel affordably—and frequently—with four kids. I would kind of be lying if I said I loved it from day one. Over the years, though, I can say that I have come around. We have done some really awesome trips, and our kids have seen spots that we probably wouldn't have seen if we weren't traveling this way. And now, with a motor home instead of a pull trailer, the experience is so much better. No kids crammed in the back seat occasionally (okay, more than occasionally) fighting, the ability to take the occasional nap while traveling and not feel like a pretzel, and so many other reasons make me feel like we really made the right move.
5. What's your best advice for any alums who might be thinking about taking their own RV road trip?

Pat: For me, I don't mind driving—and I love to seeing the country and not just flying from point A to point B.  It's also a cost savings to us with a family of six. Campgrounds are significantly cheaper than hotel rooms, and we bring our own food. If we are going on a long trip, I try to pick out some interesting places to stop to break up the ride. But even the weekend getaways are relaxing. It's like having a summer home on wheels. Unlike the travel trailer, which was pulled by a large SUV, the motor home allows the entire family to be in the RV while traveling.  Kids can sleep, watch movies in their bunks, make a sandwich, and no more "Dad can you stop I have to go to the bathroom."
Joan: I am lucky because Pat does all of the planning when it comes to our vacations in the RV. I would say, though, from watching him, do your research on the campsites. Make sure they have what you are looking for—whether it's a great pool, ocean front, or other amenity. I know Pat visits a lot of blogs and websites. People who love camping love talking about it and sharing advice, so you can get great tips and info online. And I would say, do it! At least once, take an RV trip and experience a very different way of traveling and seeing America.