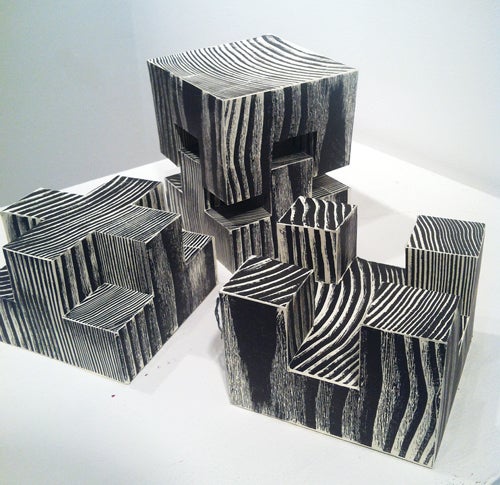 URI art student Lucas Hearne '15 loved printmaking, but there was a problem: it was 2-D. So he found a way to turn prints into delicate sculptures, work so unique that it won a major award from The Print Center, a Philadelphia-based art organization that promotes printmaking throughout the world.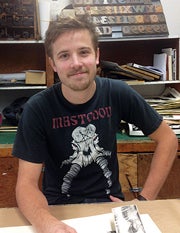 Hearne, of Wakefield, R.I., started drawing as a child, mostly Japanese-style cartoons and graffiti. A skateboarder, he learned carpentry skills building his own ramps and rails. This spring, he was among 11 finalists selected from 460 artists worldwide in the center's 89th annual international competition.
His work resembles wood sculptures, but is really hollow paper with printed wood grains, painstakingly taken from pieces of Douglas fir. The result: objects that convey beauty, precision and craftmanship.
Hearne says his art "illustrates the relationship between an object and its maker. People in today's culture are out of touch with creating things. Everything's manufactured, even meals. My work is not just about the finished piece, but also the process of crafting it.''