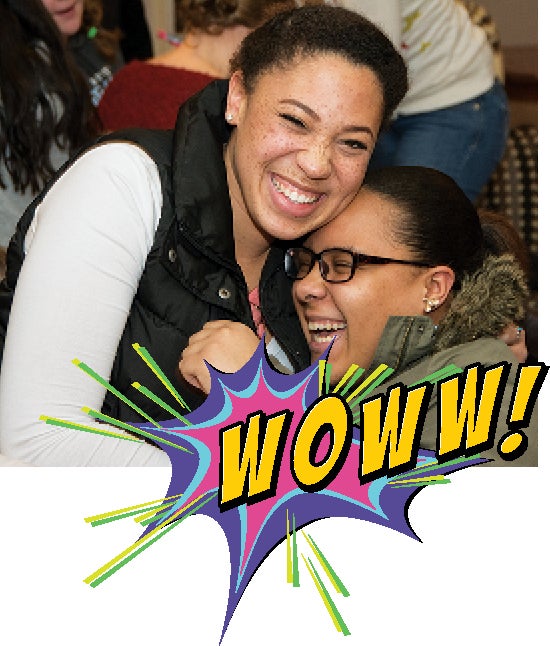 What's the biggest superpower of all? The gift of acceptance.
In a cozy room at the Women's Center on the URI campus, dozens of women are sprawled across the floor playing a game called "Warm Fuzzies." No, they're not tossing around puffy lint balls. They're offering something more precious—kind words.
One by one, they write down cheerful observations about their friends: caring; awesome personality; you are honestly hilarious; you da bomb; I love your energy—and your scarf; thank you for bringing me!!!
Welcome to WOWW, or We're Offering Women Wisdom, an all-female student group that provides women a safe and nurturing place to be themselves without worrying about being judged. And in this age of mean girls and narcissistic selfies, that philosophy resonates in a big way.
"WOWW is about positive energy and lifting everyone up,'' says Kelsey Lever '15, who joined the group as a freshman and is now the organization's president. "Being around people who care about me—I mean really care—gives me so much confidence. I feel like I can do anything."
Founded in 2004, the organization has grown from a handful of women to about 60 today. Lever boasts that membership is increasing every year, thanks to the group's welcoming spirit and lack of pretense. No one is turned away. "We're about including everyone,'' she says.
And on this evening that's what members strive for with a game that is both uplifting and fun. Each woman signs her name on a large sheet of paper. Then, the sheets are circulated around the room to members, who write remarks meant to inspire and instill confidence.
Hearty laughs come easily. Giggles too. Lever snaps photos. "Ladies," she says, kneeling to take a close up, "Smile." Announcements about themes at future meetings are made: a potluck and holiday sweater contest. In no time, the posters are covered with missives highlighting what is good—and possible—in a young woman's college life.
"I can get support from any of these girls here," says Courtney Walker '15, of Burlington, Conn., wearing a sweatshirt with WOWW stretched across the back. "They're like my sisters."
One of them is Caroline Poulter '18, of Newtown, Conn., who signed up as a freshman at the recommendation of a friend who was a member when she went to URI years ago. "Everyone is so accepting here," she says. "And kind."
"Want to have dinner?" says Walker.
"Sure," says Poulter, and off they go.
Lever was a shy freshman when she started URI four years ago. She couldn't find her niche. Sororities didn't feel right; neither did sports teams. She had so much trouble making new friends she rushed home to Barrington, R.I., every weekend.
The loneliness was so bad she considered dropping out. Then the unexpected happened. Another student had been nagging her for months to check out a WOWW meeting, and Lever finally gave in.
"I thought it would be a bunch of girls hanging around talking about girlie stuff—what to wear at parties, makeup, guys," she says. "No way. I fell in love with the group when I walked in the door."
There were no whisperers huddled in corners, gossiping. Women came near to talk: Where are you from? What are you studying? Who's your adviser? Burgers or burritos? Lever's white horse had galloped in, just in time.
Mentoring is crucial to the group's success; older students advise younger ones. Lever's mentor was a senior—a "Big"—whose wisdom about everything from course selection to study habits helped her get through rough patches. Now Lever is mentoring a younger student, Jessi-Lynn Minneci '16, a "Little.''
"Kelsey is always there to help me, whether it's studying or just hanging out,'' says Minneci, of Nutley, N.J. "It was an instant friend connection. I didn't know anyone when I came to URI. WOWW is where I've made my best friends."
The students also bond through community service projects, like raising money for cancer research, donating Christmas toys to families that are poor, buying prom dresses for high school students who can't afford them, or making Valentine's cards for elderly people. Money collected during fundraisers is donated to the Rhode Island Coalition Against Domestic Violence.
"Everything we do is about improving the lives of women," says Lever.
Weekly meetings give members a chance to talk about pressing issues on college campuses today, including sexual assault, substance abuse, eating disorders and stress, both academic and social. In a session called "Breaking Boundaries" the women discuss personal problems openly, knowing that what is said at meetings stays at meetings.
Allison Costa '15, of Huntington, N.Y., found comfort talking about a tough breakup with a boyfriend back home. "I realized that other girls had gone through the same thing," says Costa, the group's vice president. "I wasn't alone, and that made everything easier to handle."
Unsure of a major, Costa appealed to her mentor for academic advice, settling on health studies and biology, with the goal of following in the same path as her mentor and becoming a physician's assistant.
"My mentor was always there for me, even with her busy schedule," says Costa. "You don't have to be sitting in your dorm room by yourself. WOWW made me feel like I really started to belong here."
The group is so popular alumnae return to the URI campus every summer to reconnect and remember Lindsay Anne Freeman '09, of Clinton, N.J., a beloved former member killed in a car accident in 2011, at the age of 24. The group gives out the "Live.LAF.Love'' award to a current member who embodies Freeman's spirit. Lever received the award last year.
"It was one of the greatest feelings of my life,'' says Lever. "When they handed me the award, I lost my breath. I've grown so attached to this group. It changed everything."
She's also proud of her "Warm Fuzzy" poster, which says, among other things, that she's a "great prez." It's tacked to her bedroom wall, and she reads it every day. When she graduates this spring it will go with her as she steps into the world.
—Elizabeth Rau