Last issue, we asked for your stories of entrepreneurship, and received this amazing response—proof, like our Winter 2014 cover story, that URI alums really do make the world a better place. Katie Johnson '08 writes: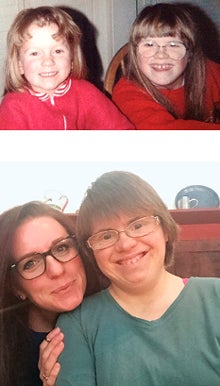 I'm the the youngest of three girls, with a middle sister who happens to have Down syndrome. I have learned much about the world through Krissy. She is incredible; she loves abundantly and without a hint of prejudice, she states her feelings regardless of how socially or politically correct it may be to do so, and she has the most joyfully contagious laugh I've ever heard.
Krissy is capable of meaningful work. She is focused, pays careful attention to minute details, and asks for help if she encounters something she's unsure of. She would make an excellent employee, but because her disability is so visible, she is not given many opportunities to prove this.
And so, I am building the business plan for From Scratch Baking Co., a bakery that I am planning to open in my hometown of Wolfeboro, N.H. It will provide employment to people with developmental disabilities, including my sister, and allow others to see how capable this marginalized community truly is.
Through a fundraising campaign on Indiegogo, we were able to raise about $30,000 in start-up funds for our bakery, and hope to open this summer. We are still in need of funds, or skilled labor in the form of plumbing, carpentry and electricity.
My education at URI cultivated the passion and drive I have to succeed, and further instilled in me a desire to use the skills and training I received to spread good in the world. What good are the tools I gained through my time at URI if I use them only to benefit myself?