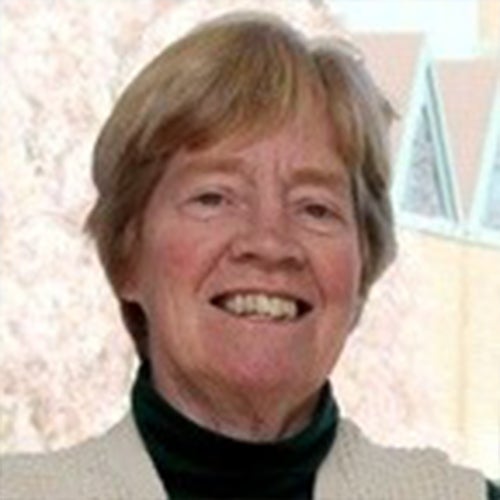 Professor of Oceanography
Biological Oceanography
Phone: 401.874.6661
Email: coviatt@uri.edu
Office Location: 4 MERL
Biography
It might be safe to say that there are not many people in the State of Rhode Island who know Narragansett Bay better than Dr. Candace Oviatt. After getting her bachelor's degree in biology from Bates College, she started looking around for a job. "I looked into the Jackson Laboratory in Maine and found out that I could be washing dishes all day—that's when I said I'm getting my Ph.D." Intrigued by a brochure describing the Graduate School of Oceanography, Oviatt came to URI in 1969 to pursue graduate studies in biological oceanography.
"I always liked the outdoors but knew very little about the ocean. It involved outdoor expertise and that appealed educationally to me. I assumed that everything was already known about natural systems on land –of course I was totally wrong—so I thought oceanography would be wide open and offer a lot to explore."
When Oviatt came to GSO, the school had about five faculty members and 15 students. She teamed up with the late Scott Nixon who was working on Narragansett Bay and Massachusetts Bay. Massachusetts officials had planned to extend the outfall of the huge Boston sewage treatment plant and needed data on what the impact would be on the bay. The work required intensive monitoring, something that Oviatt is doing to this day, now with a network of monitoring devices—some of them autonomous.
She finds Narragansett Bay is currently a lot cleaner than it was when she started. "It does not have the pollution from hydrocarbons and heavy metals that it previously had"—manufacturing, especially the jewelry industry, is much diminished in the area served by the Providence sewage treatment plant. She and her colleagues started noticing changes in 1980 when improvements were made to sewage treatment plants, when some industries were shutting down and when more attention was paid to proper disposal of petroleum products. By the 1990s, things were really looking up as far as bay quality was concerned. Even the shellfish industry has grown with successes in aquaculture.
One of the biggest events during her bay research happened in 2003 when thousands of fish died in Greenwich Bay. The cause was a lack of oxygen in the water and at first officials blamed the situation on nutrients such as fertilizer runoff into the area. However, subsequent research showed that, under certain weather conditions especially in the summer, circulation in the depths of Greenwich Bay slows down. The resultant "gyre" isolates a nutrient-rich environment, and the high water retention results in hypoxia or low oxygen conditions that cause fish kills.
Oviatt not only spends a lot of time on the water, she has brought the Bay to her waterfront office where she and others built towering structures designed to mimic the bay's water columns so they could study gradients. "I'm a big fan of Narragansett Bay and trying to understand it. It is of a size that you can study as a whole system.
While Narragansett Bay is a life-long interest to Oviatt, she keeps herself busy outside work. She has three horses on her rural property and loves to play tennis. In winter she enjoys cross-country skiing. She also loves to visit her vacation home in Nova Scotia.
But the work on the bay never ends. Now that the bay has lower levels of nitrogen and phosphorus, research is needed to understand how the bay is reponding to these levels. Oviatt suspects the spring blooms of phytoplankton will be reduced. The bay may be warmer now than in 1969, but it has started a slight cooling phase—she believes as part of a cycle that can last 75 years—related to the position of the jet stream. Eventually she thinks climate change will override the current system and no doubt that will mean much more research lies in the future.
"I do like it here at GSO—it changes all the time. One of my favorite parts of GSO is the students—I think they are fantastic people."
Research
Biological Oceanography
Algal blooms, Benthic-pelagic coupling, Biogeochemical cycling, Climate change, Coastal and estuarine health, Ecosystem dynamics, Hypoxia, Marine habitat and ecosystems, Marine nitrogen cycle, Phytoplankton ecology, Suboxic ecology
The focus of my research in Narragansett Bay for the past several years is the response of the Bay to declining inputs of nutrients due to the implementation of tertiary treatment at Rhode Island and Massachusetts sewage treatment facilities and the reduction of phosphate in detergents. One question we are trying to answer is whether the reduction has or will cause a reduction in intermittent hypoxia or low oxygen in the upper bay. We are working closely with Rhode Island Department of Environmental Management, Office of Water to maintain, operate and data manage a monitoring network of fixed-buoys. This is a partnership with the Narragansett Bay Commission and the Narragansett Bay Estuarine Research Reserve on Prudence Island. This network has grown from two summer sites established in 1999 by Dana Kester to the current 13 sites, including 3 year-round sites at Conimicut Point, Greenwich Bay and the GSO dock. A graduate student measured 14Carbon and Oxygen primary production at 6 sites for 2.5 years; this comparison of carbon and oxygen processes serves as ground truth data to use buoy oxygen data to continuously monitor primary production and respiration to quantify their respective roles in summer hypoxia. Another graduate student measured dissolved inorganic nutrients, total nitrogen and total phosphorus at 13 stations around the bay to document the change in standing stocks since 2006. Nitrogen inputs were found to have declined by 17% of the total nutrient inputs to the bay. In 2012 the largest sewage treatment facility on the bay at Fields point began additional sewage treatment and our monitoring has documented a continuing decline in dissolved inorganic nitrogen. The RI DEM objective is to decrease the nitrogen input from sewage treatment facilities by 50%, but with treatment also being initiated in Massachusetts plants in the Bay watershed, the decline may be much more than anticipated and affect secondary productivity of the bay, i.e. less fish and shellfish. A graduate student has been measuring the spawning locations of quahogs, the abundance and growth of quahogs and oysters in the bay, thus we will be able to document some of those changes. Another graduate student has measured alkalinity over the last summer in preparation for using pH measurements from the buoy sites to estimate primary production and to compare with other measures of metabolism.
Another research interest has been the effect of climate change locally and globally, particularly the warm-cool oscillation cycles that have been so ignored in the media to reveal global warming. I am working on a paper documenting the effects of these oscillations to changes in the abundance of salmon in the Aleutian gyre, pelagic fish in the Peru and Benguela upwelling areas and Swedish herring in the North Sea.
Education
Ph.D. Biological Oceanography, University of Rhode Island, 1967
B.S. Biology, Bates College, 1961
Selected Publications
Smith, L. M., Whitehouse, S., & Oviatt, C. A. 2010. Impacts of climate change on Narragansett Bay. Northeastern Naturalist 17(1): 77-99
Taylor, D. I., C. A. Oviatt, D. G. Borkman. 2011. Non-linear responses of a coastal aquatic ecosystem to large decreases in nutrient and organic loadings. Estuaries and Coasts 34: 745-757.
Codiga, D., H. Stoffel, C. Deacutis, S. Kiernan, C. Oviatt. 2009. Narragansett Bay hypoxic event characteristics: Inter-annual variability, geographic distribution, intermittency, and spatial synchronicity. Estuaries and Coasts, 32(4): 621-641.
Reel Bites video for the Fall 2008 URI Honors Colloquium: People and Planet, Global Environmental Change
Calabretta, C.J. and C.A. Oviatt. 2008. The response of benthic macrofauna to anthropogenic stress in Narragansett Bay, Rhode Island: A review of human stressors and assessment of community conditions. Marine Polution Bulletin 56:1680-1695.
Oviatt, C., K. Hyde, A. Keller, J. Turner. 2007. Production patterns in Massachusetts Bay with outfall relocation. Estuaries and Coasts 30: 35-46.
Melrose, D. C., C. Oviatt, M. Berman. 2007. Hypoxic events in Narragansett Bay, RI during the summer of 2001. Estuaries and Coasts 30: 47-53.
Hyde, Kimberly J. W., John E. O'Reilly, Candace A. Oviatt. 2007. Validation of Sea WiFS chlorophyll in Massachusetts Bay. Continental Shelf Research 27: 1677-1691.
Oviatt, C., A. Gold. 2005. Plant nitrogen in coastal waters. Ch 8. In: Nitrate, Agriculture and the Environment. T. Addiscott, Ed. CAB International, UK.
Oviatt, C. A. 2004. The changing ecology of temperate coastal waters during a warming trend. Estuaries. 27: 895-904.
Oviatt, C., S. Olsen, M. Andrews, J. Collie, T. Lynch, K. Raposa. 2003. A century of fishing and fish fluctuations in Narragansett Bay. Reviews in Fisheries Science 11:1-22.
Oviatt, C.A., A.A. Keller, and L. Reed. 2002. Annual primary production in Narragansett Bay with no bay-wide winter-spring phytoplankton bloom. Estuarine, Coastal and Shelf Science, Estuarine, Coastal and Shelf Science 54: 1013-1026.
Keller, A.A., C.A. Oviatt, H.A. Walker and J.D. Hawk. 1999. Predicted impacts of elevated temperature on the magnitude of the winter-spring phytoplankton bloom in temperate coastal waters: A mesocosm study. Limnology and Oceanography 44(2):344-356.
Oviatt, C.A. 2012. Exploring Hypoxia. Research Innovation: 56-58. International Innovation is the leading global dissemination resource for the wider scientific, technology and research communities, dedicated to disseminating the latest science, research and technological innovations on a global level. More information and a complimentary subscription offer to the publication can be found at: www.researchmedia.eu