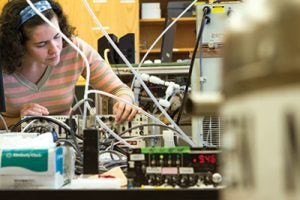 The Blue MBA program is a dual-degree program that merges the Master of Business Administration (MBA) with the Master of Oceanography (MO). It is designed for students with a physical science, natural science, or engineering undergraduate degree who want to develop their management skills and broaden their marketability.
With a growing demand for leaders with skills in business and science – particularly ocean- and coastal-related science, the Graduate School of Oceanography and the College of Business partnered to offer this joint degree program. This is the first program of its kind in the United States, and provides the knowledge and skills needed to develop business models to ensure an environmentally sustainable world for a broad range of industry sectors, companies and organizations.
Students successfully completing the Blue MBA program are prepared to strategically address the broad spectrum of environmental challenges facing the global business community. This program is particularly beneficial to those seeking management careers in industries including the following:
Energy
Ocean Technology and Engineering
Hazard Risk Management
Water Resources
Fisheries
Marine Navigation and Tourism
Ocean and Human Health
Students take courses in business, oceanography, and economics.
A CLEAR NEED FOR BLUE MBA STUDENTS
"I can't get my hands on enough MBAs in the energy/climate area." Mike Mernick, Senior VP at ICF International.
Internship and career opportunities exist in industries such as energy, ocean technology and engineering, hazard risk management, water resources, fisheries, marine navigation, environmental consulting, tourism, as well as ocean and human health.
Additionally, all industry sectors are looking for environmentally responsible managers in finance, marketing, management and event planning – among others. Therefore, opportunities also exist with companies that work to enhance the environmental sustainability of their operations and surroundings, although that is not their primary business focus. This further expands the Blue MBA job market to include the Starbucks, Home Depot, Costco, ICF International, General Electric, and other major corporations of the world.
OPTIONS TO PURSUE THE BLUE MBA
There are three ways to pursue this dual degree.
OPTION 1: Day – Fall Start
| | | |
| --- | --- | --- |
| Year 1: | Fall | One year "Day" MBA Program |
| | Spring | One year "Day" MBA Program |
| | | |
| Year 2: | Fall | Oceanography Courses (501, 561, 695, Elective) (12 credits) |
| | Spring | Oceanography Courses (521, 540, 695, Elective) (12 credits) |
OPTION 2: Day – Spring Start
| | | |
| --- | --- | --- |
| Year 1: | Spring | Oceanography Courses (521, 540, 695, Elective) (12 credits) |
| | Fall | One year "Day" MBA Program |
| | | |
| Year 2: | Spring | One year "Day" MBA Program |
| | Fall | Oceanography Courses (501, 561, 695, Elective) (12 credits) |
OPTION 3: Evening MBA / Day MO Concurrently (example of a possible schedule)
2 MBA Courses / 1 MO Elective (9 credits)
Year 1:
Fall
3 MBA Courses / 2 MO Courses (14 credits)
Spring
2 MBA Courses / 3 MO Courses (15 credits)
Summer
2 MBA Courses (online) / MO Internship (6 to 12 credits)
Year 2:
Fall
2 MBA Courses / 2 MO Courses / 1 MO Elective (13 credits)
Spring
For More Information
For more information on the MO or Blue MBA, please contact:
Dr. Robert Pockalny
Associate Dean for Student and Academic Affairs
(401) 874-6926 or rpockalny@uri.edu