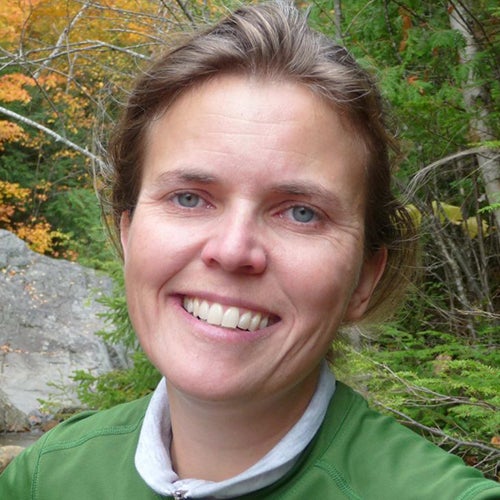 Biography
Dr. Menden-Deuer is a seagoing oceanographer, with research interests focused on marine planktonic food web structure and function. Research in Dr. Menden-Deuer's group combines in-situ work in the temperate and polar ocean of primary production and phytoplankton mortality, laboratory measurements of plankton behavior and physiology and theoretical modeling work to establish linkages between microscopic events (e.g. predator movements) and macroscopic phenomena (e.g. phytoplankton production and distributions). Since 2008, Dr. Menden-Deuer has been a member of the faculty of the Graduate School of Oceanography at the University of Rhode Island. Before coming to URI, Dr. Menden-Deuer was a research fellow at Princeton University with Simon Levin and a Lecturer at Western Washington University. She received her Ph.D. in 2004 and a M.Sc in 1998 both in Oceanography at the University of Washington with Daniel Grünbaum and Evelyn Lessard, respectively. She received her first degree in 1996 from the University of Bonn, Germany, with research done with Victor Smetacek at the Alfred Wegener Institute of Polar and Marine Sciences. Dr. Menden-Deuer was fortunate to spend 1 year at the University of New South Wales in Sydney, Australia.
Beyond her scientific interests, she has been active in contributing to enhancing diversity and science communication in oceanography. Initially, through teaching and mentoring a diverse undergraduate student body in marine science at Western Washington University teaching fellows in what was then called the 'Minorities in Marine Science Undergraduate Program' (MIMSUP) – a program led by Profs. Brian Bingham and Steven Sulkin. Dr. Menden-Deuer also serves on the editorial boards of oceanographic publications and the Board of Directors of the Association for the Sciences of Limnology and Oceanography (ASLO).
She also supports science education and outreach, through participation in the National Ocean Science Bowl and as a science mentor for the Metcalf Institute for Marine and Environmental Reporting that targets environmental journalists as well as working with students and faculty at the Rhode Island School of Design Studio.
Research
Algal blooms, Biogeochemical cycling, Biooptics, Carbon cycle, Climate change, Ecosystem dynamics, In-situ sensing, Instrumentation, Small-scale structures, Marine habitat and ecosystems, Microbial biogeochemistry, Microbial ecology, Numerical modeling, Ocean dynamics, Physiology, Phytoplankton ecology, Plankton ecology, Plankton imaging, Science communication, Zooplankton ecology
Plankton behavior and ecology • Predation • Harmful & toxic algae • Organism movement and dispersal
Current Research
Education
Ph.D. Oceanography, University of Washington, 2004
M.Sc. Oceanography, University of Washington, 1998
Diplom Biologie, University of Bonn, Germany, 1996
Biological Oceanography Lecture & Lab • Data Analysis & Communication
Selected Publications