August 8, 2023
Fifteen University of Rhode Island students, including two graduate students, were honored recently for their academic and community achievements at the University's 26th annual Black Scholar Awards.
Established in 1998 by Donald Cunnigen, URI professor of sociology and anthropology, the awards recognize African American students for their outstanding achievements in leadership, community involvement, academic achievement, and athletics.
The Black Scholar Awards were the first and only awards program in the University's history founded with the primary objective to acknowledge the diverse achievements and contributions of students of African descent. Since its founding, the program has recognized hundreds of students who have made outstanding contributions to the University, state, and nation.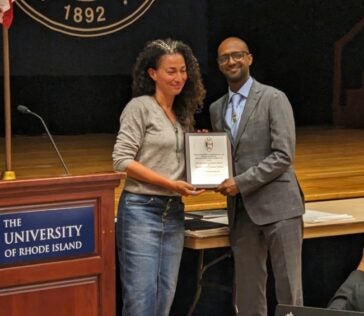 GSO's Asta Habtemichael was awarded the Donald Cunnigen Award for Excellence in Graduate Studies. Read more about the award and Habtemichael:
Donald Cunnigen Award for Excellence in Graduate Studies
Asta Habtemichael, of Eritrea, is a Ph.D. candidate in the Graduate School of Oceanography, concluding his work in chemical oceanography. A talented scholar and born leader, Habtemichael's research has been recognized with numerous internal and external fellowships and awards. He is a student trainee on the Sources, Transport, Exposure, and Effects of PFASs (STEEP) Superfund Research Program Center training core. In addition to research and contributing as co-author on three papers, he has led Diversity and Inclusion Badge Program sessions on the experience of international students for the Graduate School and been a graduate student representative to the College of the Environment and Life Sciences diversity committee. He has also served as an AGU Landing Ambassador, helping to plan more equitable protocols and programs for the American Geophysical Union membership via their Landing program.
Learn about the other award recipients.