November 25, 2020
Welcome to the twelfth in our series GSO Profiles. Each post will feature a brief interview with a member of the GSO community. With COVID-19 restrictions in place since mid-March, many faculty, students and staff have not been on the Bay Campus. But for some community members, their jobs require them to be on campus every day, and the pandemic has presented them with new work challenges. Highlighting them in GSO Profiles is one way we can show our appreciation for all their hard work. Here's one such person.
During normal times, those who venture up to the top floor of the Ocean Science and Exploration Center (OSEC) and enter the Pell Marine Science Library were often greeted by a smiling Joyce Downey, asking if she can help you find something. And if you were new to the GSO Community or if you had questions about the library, Joyce would happily give you a tour. But from mid-March in 2020 through the end of August, although the library services were open, no one was allowed in Pell Library except Joyce and the other librarian, Juliann Cerrito. On August 31, the doors of Pell Library reopened for URI students, faculty, staff and affiliates with reduced seating (35 seats) due to COVID-related social distancing.
Here's Joyce in her own words:
GSOP: Tell us about the usual work you do at GSO (work before the COVID situation).
JD: The usual work is to help the students and take care of the books. Also we lend and borrow books and articles from most of the United States for students, staff and professors.
GSOP: Tell us in general how your work at GSO has changed since mid-March, when most people began to work remotely due to the COVID situation.
JD: Pell Library was quieter than usual during this time. If someone requested a book by email or phone, I would take it downstairs to them and meet them at the front doors. When classes went virtual, students were not coming in to look up materials for classes. Researchers weren't coming in to look for obscure papers. The GSO graduates have their theses and dissertations bound and they are housed in a special section of the library, but during the pandemic, students could not get them bound. Hopefully we will be able to do that soon.
GSOP: What special projects were you doing that were COVID-related?
JD: The projects were moving chairs and tables around so students would be able to work 6 feet apart when they came back, cleaning all the surfaces, and posting signs to limit the number of people in the study rooms.
GSOP: What COVID precautions do you now take in your work?
Precautions that we have now are wearing masks, using hand sanitizer, handling materials with vinyl gloves and always washing hands.
GSOP: What led you to this type of work?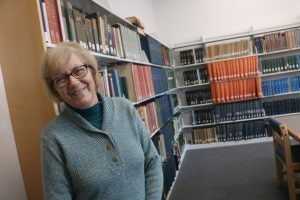 JD: I wanted to be a librarian because I love books.
GSOP: What is your favorite thing about your work?
JD: I have been working at Pell library for twenty-one years and every year has been great. One of my favorite things is putting together a display of books and articles in honor of a GSO person who has retired or passed away, to highlight his or her work.
GSOP: What changes have you seen at the library in your 21 years?
The biggest change was helping to plan the new library and moving everything from the old Pell Library to the new one in April 2009. That was a big job. We have been here 12 years. The new library has more light and space. We also have a separate "Special Collections" room that includes the "Narragansett Bay Collection," the record of the GSO cruises to investigate the North Cape oil spill, and books of oceanographic historical significance, such as the series of "Challenger Reports" from the 1872-1876 Challenger Expedition, the first oceanic research voyages. These documents are very important to have.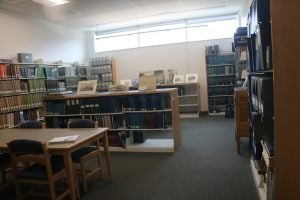 GSOP: You are very interested in the Narragansett Bay Collection, tell us more about it.
JD: This collection includes books, articles, and photographs about the history of the GSO and its predecessor, the Narragansett Marine Lab (NML). When we moved out of the old library, I found several drawers in the old Challenger Room full of newspaper clippings about NML and GSO. I put them in scrapbooks so we could preserve them. When I have had funds, I hired an intern to catalogue the hundreds of old photos we have. This collection also includes all the cruise reports of the R/V Trident, GSO Annual Reports of Publications, and collected works of retired faculty members.
GSOP: In the old Pell library, there was a " journal room" where people could come in and sit and read the latest issues of a journal – is there anything like that at Pell?
JD: Pell Library has three Study Rooms that people can use, and because journals mostly are online now people use their own computers.
GSOP: It's great that the National Sea Grant Library is at GSO. What is its relationship to the Pell Library?
JD: National Sea Grant Library is a separate library from Pell and has its own separate website and searchable database. Currently the circulating collection is located in the Pell Library. Joyce E. Winn is the Library Technician / Publications Coordinator, and she has been there since 1975.
GSOP: What is your favorite spot or view at GSO?
JD: Pell Library has beautiful windows, you can see the ocean and the R/V Endeavor if it is at the dock.
GSOP: Why is the library named after Senator Pell?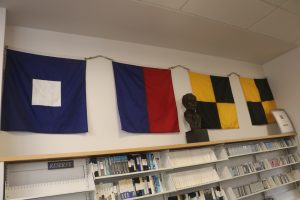 JD: The Pell Library houses more than 66 thousand volumes, including books, journals, theses and dissertations, maps, atlases, digital media, and special collections. These holdings emphasize oceanography, marine biology, fisheries, atmospheric chemistry, and coastal and estuarine habitats. The library name honors Rhode Island Senator Claiborne Pell who was the author of the Sea Grant legislation and a longtime champion of ocean research and preservation.
GSOP: There are more then books in the library – what else is there?
JD: As you enter the library, the wall on the left has a bust of Senator Pell and four nautical signal flags. You can probably figure out what they spell out (hint: the last two letters are the same). There is a large model of the R/V Endeavor and two smaller hand-made models of historical sailing ships, one of which is Capt. Cook's HMS Endeavour. There is always a jigsaw puzzle on a large table for anyone who wants to take a break and put some pieces together. There are a couple of large comfy chairs by the windows, where you can curl up with the latest GSO publication or just enjoy that view.