Researchers from the University of Rhode Island and the University of Hawaii are collaborating on a robot-based iceberg mapping mission
Oct. 27, 2022
Icebergs originating from Greenland not only impact the environment by affecting sea-level rise and local ecosystems, but they can also damage offshore equipment and disrupt marine transportation.
GSO researchers Mingxi Zhou and Chris Roman , and Zhuoyuan Song from the University of Hawaiʻi at Mānoa, received a $1.5 million award from the National Science Foundation to develop multi-robot systems for iceberg studies.
The research team will develop multiple robotic platforms, including an autonomous surface vehicle, an autonomous underwater vehicle, and several underwater profiling floats, to map the shape of icebergs and assess their surrounding water.
The team plans to deploy the robotics in Twillingate, Newfoundland, Canada in 2024 and 2026. They will record the shape, size and drifting speed of the icebergs, and the properties of the surrounding water, creating a unique dataset to better understand iceberg melting and drifting processes.
Zhou is the lead researcher on the project. His previous experience studying icebergs using marine robots will be invaluable.
"With ships, we have to stay at least 50 meters away from the iceberg," said Zhou, who is on the faculty of URI's Graduate School of Oceanography, with a limited joint appointment in ocean engineering. "That prevents us from assessing the water properties near the iceberg and limits our ability to estimate how big an iceberg is and how fast it is melting."
Robots can get much closer to icebergs, but using them can be challenging.
"We can develop autonomous algorithms to move robots around the icebergs," said Zhou. "But if you don't carefully consider the movement of the icebergs, navigating the robots can be difficult. It can also cause distorted mapping results, especially when mapping the underwater portion of an iceberg with an underwater robot."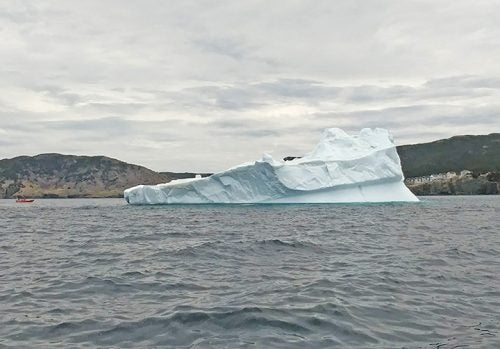 Zhou, Roman and Song each have their area of expertise, but they'll work closely to achieve the objective of the project and overcome any obstacles that arise.
Applying his knowledge of vehicle autonomy, Zhou will design coverage algorithms and coordinate strategies that will allow robots to fully map the iceberg in a collaborative way.
Roman will draw upon his experience in underwater mapping, system development and field tests when developing the robotic systems and the 3D shape reconstruction of the icebergs.
Zhuoyuan is experienced in underwater localization and state estimation. He will focus on the robot navigation challenges.
"For a successful robot-based iceberg mapping mission, we need to merge the research outcomes from all three of us," said Zhou.
The team will also have other collaborators from the United States, Canada, and Australia who will help with the algorithm and system development, field logistics, and public engagement, among other responsibilities.
Funding from the project will support three graduate students, one postdoctoral researcher, and multiple undergraduate students.
The research team will create workshops and tours for local middle school and/or high school students to interact with the robots and design digital art with collaborators from Rhode Island School of Design to promote the synergy between robotics, science, and the arts.
"Training students and inspiring our next generation are essential and should always be the top priority for innovation and technology development," said Zhou.