Starting in February 2022, GSO graduate students and staff provided hands-on activities with Central Falls elementary, middle and high school students.
Third grade students at Raíces Dual Language Academy and Veterans Memorial built the miniboat while learning about ocean topics. Once completed, middle and high school students in an after school program worked together to install sensors on the miniboat so it can be tracked and collect data such as air and surface water temperature.
The MB (miniboat) Inspiration was launched into the Atlantic, off the shelfbreak, from the RV Endeavor on March 26th, 2022.
After 245 days at sea, MB Inspiration traveled almost 15,000 kilometers across the Atlantic Ocean, washing ashore on November 26th in Christchurch, United Kingdom. The MB Inspirationwas brought to Tiptoe Primary School in Lymington where students will work together to refurbish the miniboat to prepare for its next adventure at sea.
Follow the Inspiration's Journey
On December 8th, the students in Central Falls, Rhode Island virtually met the students at Tiptoe Primary.
On November 30, the BBC shared the news. Read the article here: US school's miniature boat washes up at Christchurch or watch the clip here:
Press
On December 1, the local news channel in Rhode Island, NBC10, shared the story, Unmanned mini sailboat designed by R.I. students reaches coast of England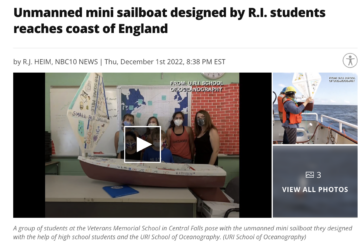 The Boston Globe wrote about it on December 2: Miniature boat built by Central Falls students washes up on coast of England.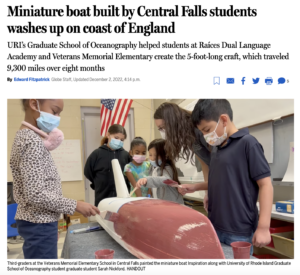 On December 5, 2022, URI News posted the following Press Release: URI Graduate School of Oceanography, Central Falls students find a little boat can go a long way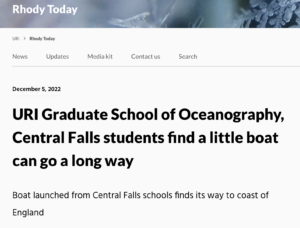 The Central Valley Breeze wrote a follow-up from their March launch story on December 7: Mini boat built by Central Falls students found on England coast.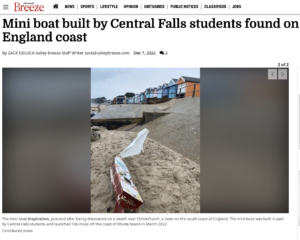 R.J. Heim of NBC10-WJAR was in one of the classrooms in Rhode Island for the connection, and here is the full report (click on the link to watch the video): Central Falls students meet British students who retrieved their trans-Atlantic boat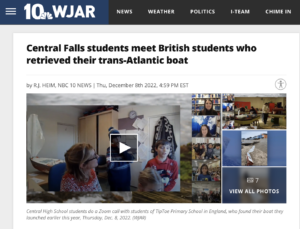 T.J. Del Santo of WPRI also reported: 'Miniboat' made by RI school kids lands in England which was picked up and further shared via UPI's Ben Hooper on December 9: 'Miniboat' built by Rhode Island students makes it to England.
The GSO Miniboat program is made possible by the Devereux Ocean Foundation, Inc.