GSO's Seagoing Tradition
GSO boasts a proud seagoing-tradition with more than fifty years experience operating world-ranging and world-class research vessels. GSO acquired its first ship in 1962. R/V Trident, a 180-foot, converted 1945-era U.S. Army coastal freighter (FS-206), operated successfully until 1976 when she was replaced by R/V Endeavor, one of three intermediate class National Science Foundation-owned ships designed from the keel up as oceanographic research vessels. In 1993, GSO led mid-life design for all three sister vessels, a refit lengthening R/V Endeavor from 177 to its current overall length of 185 feet. Endeavor carries a crew of 12 and accommodates up to 18 scientists and technicians.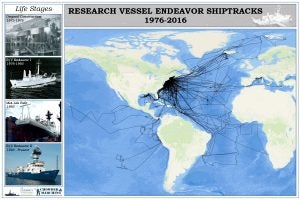 With its home port in Narragansett, Rhode Island, R/V Endeavor spends approximately 200 days a year at sea, with scientists from Rhode Island, throughout the United States, and abroad conducting research and training programs aboard this multi-disciplinary oceanographic research vessel. The State of Rhode Island, through the Rhode Island Endeavor Program, supports up to 20 ship-days per year for Rhode Island scientists, graduate students, and undergraduate students, as well as a Rhode Island Teacher-at-Sea Program to conduct scientific research and educational training aboard Endeavor.
Research Vessel (R/V) Endeavor Specifications
| | |
| --- | --- |
| Built | 1976 by Peterson Builders, Inc., Sturgeon Bay, WI, third of the Oceanus class |
| Refit | Major mid-life refit in 1993 |
| | |
| Construction | Steel hull with aluminum superstructure |
| Length overall | 185' |
| Draft | 18' 6" aft, 12' 6" forward |
| Cruising speed | 10 knots |
| Max speed | 14 knots |
| Fuel capacity | 56,100 gallons |
| Ballast capacity | 230.5 long tons |
| | |
| Potable water storage | 8,200 gallons |
| | |
| Range | 8,000 nautical miles at 12 knots |
| Endurance | 30 days |
| Complement | 12 crew, 17 scientists, 1 Marine Technician |
| | |
| Laboratories | Main Lab, Wet Lab, Special Purpose Lab, Deck Lab |
| | |
| Frames and cranes | Starboard Side J-Frame, Fantail A-Frame, Main Crane |
Since 1976 Endeavor has carried thousands of scientists, engineers, technicians, students, and teachers on more than 500 cruises and traversed more than one million nautical miles in support of science. Endeavor has operated throughout the Atlantic Ocean, ranging as far north as Svalbard Archipelago (82˚N) and south to Tristan de Cunha (38˚S), from the western North Atlantic to eastern reaches of the North Atlantic and into the Mediterranean Sea and Black Sea, and from Brazil to Africa in the South Atlantic. Endeavor has also operated in the Caribbean and Gulf of Mexico and traveled into the Pacific Ocean through the Panama Canal as far as Easter Island and Hawaii.
GSO is one of 61 members of the University-National Oceanographic Laboratory System (UNOLS), an organization of academic institutions and national laboratories involved in oceanographic research for the purpose of coordinating oceanographic ship schedules and research facilities. UNOLS, with Its national office located at GSO, also actively promotes the goal of "greening the fleet" and is exploring the technologies and practices best suited to move forward in developing and maintaining more efficient research vessels. GSO has taken this goal to heart, and Endeavor was the first in the nation's academic fleet to convert its diesel-electric propulsion system to burn 5% bio-diesel, with plans to increase to 20% in the future, and already utilizes 100% bio hydraulic fluids. Endeavor's multiple efforts lead the way for "greening of the fleet" with upgrades to more efficient lighting, galley appliances, water heaters, water makers, and other equipment further enhancing transformation of Endeavor into the most Earth-friendly academic research vessel in the nation.
The State of Rhode Island-supported RI Endeavor Program provides Rhode Islanders with direct access to the scientific research and educational capabilities of R/V Endeavor. As part of the RI Endeavor Program, educators are provided sea-going research experiences through the RI Teacher-at-Sea Program.
Marine operations and facilities to support Endeavor continue to improve. A new 4,300 square-foot Marine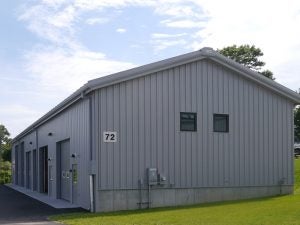 Logistics Support Facility accommodates extra equipment and spare parts as well as space for repairs and maintenance and Endeavor also benefits from major upgrades to its docking facilities. The ship's popularity with scientists who repeatedly book Endeavor for cruises is attributed extremely low turnover among its skilled crew and marine technicians. Consequently their high familiarity with Endeavor's marine operations for pre-cruise planning and post-cruise activities, as well as the equipment and instrumentation required for multidisciplinary shipboard science operations, makes Endeavor one of the most requested research platforms in the academic fleet.
As one of the premier vessels of its class, Endeavor continues to undergo periodic modernization and modification to handle the demands of today's complex marine science projects. Endeavor passes inspections every two years and is dry-docked twice every five years for more thorough maintenance of essential systems, both operational and safety-related. Thanks to a rigorous series of inspections and maintenance sessions, Endeavor is certified for operations until the year 2020. Recent high bandwidth satellite transmission and receiver equipment installed aboard Endeavor connects ship- and shore-based scientists with at-sea operations through telepresence capabilities of GSO's Inner Space Center.
Visit the Marine Operations website for detailed information about Endeavor's ship and science facilities, cruise planning, safety and standard procedures and other relevant policies.
The Marine Technician Group is responsible for supporting the science conducted from the Endeavor. Personnel in this group include four Marine Technicians and a fiscal clerk. The Director of Marine Operations is the primary contact for science support, equipment and instrumentation, cruise logistics and fiscal management of the group. At least one Marine Technician sails on every Endeavor cruise maintaining, calibrating and operating a broad range of equipment and instruments, pre-cruise staging and post-cruise activities. The fiscal clerk assists with fiscal and personnel management, purchasing and travel.