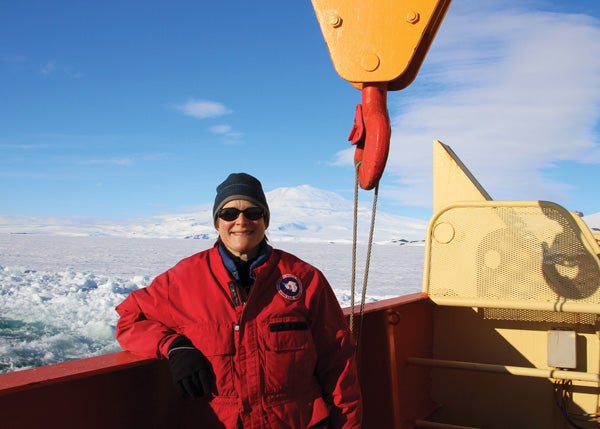 Women are still underrepresented in the kinds of extreme research that bring scientists to mountainous, polar and deep-sea environments—but their numbers are increasing, bringing change to a male-dominated culture.
By Ellen Liberman
Tatiana Rynearson was 28,000 feet above the ground, somewhere over the Southern Ocean, when she felt the sudden fullness of milk in her breasts. Four-and-a-half months after giving birth to her second daughter, Rynearson had headed off to the McMurdo Station in Antarctica for a research cruise. Now she was Kingston-bound, hoping her daughter would resume nursing despite the interruption.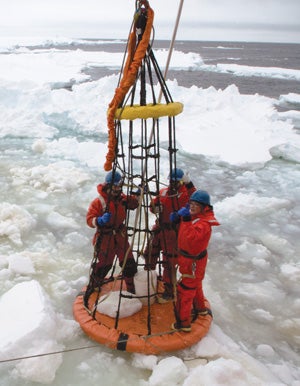 Rynearson, a URI professor of oceanography, studies how diatoms—planktonic algae that play a key role in the marine food web—are shaped by evolutionary and ecological processes, such as climate change. It had been a hectic three weeks at sea for her research team: setting up the shipboard lab, collecting samples from the ice edge in the Ross Sea to the subtropical front, stowing their instruments and packing the cultures for the journey back.
The remoteness of their location meant they were riding a C-130, a military transport aircraft with few amenities in its belly. They are loud and cold airplanes, with nylon and aluminum-framed slings for seats along the sidewalls. Many times the bathroom is just a portable toilet set up behind a screen.
Rynearson, 45, has been doing fieldwork on research vessels for 22 years, since her undergraduate days. She knows how to adapt without a fuss. That day, she fished her breast pump out of her bag and situated herself—on the floor between two pallets stacked near the bathroom. She rigged some privacy by tenting her down jacket around her body.
"People had to step over me to get to the bathroom. I thought, 'Well, it's not going to kill them if they see some breast,'" she recalls. "It wasn't pretty. But it worked. I'm not looking for their approval—nor do I care. I don't ask for permission."
Call it the changing face of fieldwork.
For as long as humans have sought to understand the physical world, there have been women scientists. In ancient Greece, the study of natural philosophy was open to both genders. But, as science transitioned from an amateur to a professional pursuit, women were barred by cultural notions about their intellectual and physical inferiority. The exclusions were particularly acute in scientific fieldwork, the backbone of so many disciplines. Women were thought to be too delicate to hack through jungles or climb mountains, and too distracting to the male scientists doing the important work.
Collecting samples, excavating artifacts or recording cultural folkways in the world's corners is often physically demanding work, done under extreme conditions that impose different challenges on women—and not all of those challenges are due to the environment. A partial list: attending to bodily functions, maintaining personal safety in hostile circumstances, having a domestic partner who supports the time away from home, battling gender biases, and coping with sexual harassment.
In 2014, a survey on sexual harassment in fieldwork found that 64 percent of the mostly female respondents had experienced sexual assault, sexual harassment or inappropriate comments about their appearance and intelligence. Most incidents occurred when they were young or in positions junior to their harassers. Launched by a quartet of bioanthropologists and reported in the journal PLOS ONE, the survey drew responses from more than 660 scientists in 30 countries, with 20 percent reporting unwanted physical contact or sexual advances; 22 percent of that group reported that it would have been unsafe to fight back or refuse.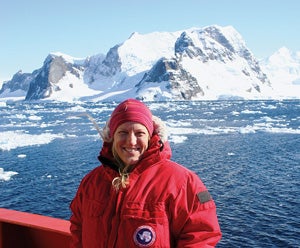 And, indeed, there was a time—not that long ago—when a female scientist doing fieldwork had to ask permission just to be there.
Rynearson points to Rita Horner, a pioneering University of Washington oceanographer. In 1973, she was the first woman scientist allowed on a U.S. Coast Guard icebreaker to continue her studies of phytoplankton in the Arctic. In a 2000 interview recorded for an oral history of polar exploration, Horner recounted how that particular barrier broke.
"Of course, the Coast Guard had to make a decision. And they finally did. They decided that I could go, and they were very unhappy about it," she recalled. "And, of course, within the first two hours, I'll bet you every single person—crewman—on that ship, walked by the lab I was going to be in to see what this woman looked like."
While the gender gap in science is slowly closing, women are still vastly underrepresented. A 2010 U.S. National Research Council study found only 36 percent of assistant professors and 27 percent of tenure candidates in biology were female—despite more women than men earning doctorates. According to the UNESCO Institute of Statistics, less than 30 percent of the world's researchers are women. Men are still more likely to receive tenure and earn more money than their female counterparts.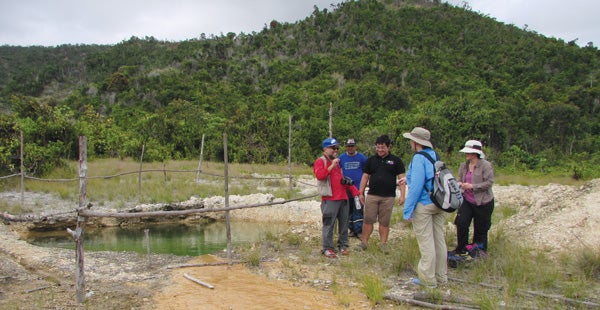 But enough women researchers have reached the point of leadership in their careers to make fieldwork a more inclusive experience.
In 2003, when Dawn Cardace earned her master's degree in earth and planetary sciences at Washington University in St. Louis, the National Science Foundation published "Where are the Women GeoScience Professors?" The study showed that women comprised less than 15 percent of geoscience faculty in U.S. universities and colleges.
Cardace's fieldwork has taken her from Carlsbad Caverns, where she labored through coffin-tight spaces mapping caves for the National Park Service, to Costa Rica, where she cored mud samples in the seafloor off the coast. Along the way, she's had her share of working in male-dominated spaces.
"There's a machismo present in most fieldwork," she says. "It's a man-up thing: you're wearing sturdy clothes, you're expected to carry heavy loads, and there's a bit of a race to the top of the hill. There's a competitiveness that doesn't have to be there."
Now a URI associate professor of geosciences, Cardace studies the interactions between geology and microbiology in ophiolites, sections of the Earth's oceanic crust that have been lifted above sea level and positioned on surface rocks. And when she leads her lab to the Coast Range Ophiolite Microbial Observatory at the McLaughlin Natural Reserve in California, she makes sure that everyone gets sufficient rest and that women on her team have privacy when they need it.
"It can be socially awkward to request the time you need to take care of your body in a male-dominated field setting," Cardace explains. "I have students who don't drink water—they purposely dehydrate so they don't have to pee. I tell them that I expect them to drink water. I expect them to hike to the top of the hill and make it through the rest of the day. I will structure a way for everyone to take those breaks."
Sometimes, female scientists in the field find that gendered assumptions are thrust upon them. Associate Professor of Anthropology Kristine Bovy gave up fieldwork after having children—partly because there was a rich trove of already collected material in need of analysis, and partly due to family logistics. But earlier in her career, sifting through shell middens in the Pacific Northwest on the hunt for clues of human and animal interaction, she sometimes found herself assigned to the den mother's role.
"I would deal more with the organizational aspects, like monitoring the food," Bovy recalls. "And if students had some personal issue, they were more likely to come to me, partly because of my personality and partly because women are more expected to have that nurturing side."
As women in the field continue to transition from curiosities to senior scientists, the sexism that has warped some careers has begun to lessen. Assistant Professor Soni M. Pradhanang treks Nepal from the brutally hot southern plains to the thin reaches of the highlands, studying changes in water resources. Her fieldwork involves helping villagers install irrigation systems and interviewing them about water management, as well as weather and agricultural trends that indicate climate change. She has seen rural communities become more welcoming to women scientists.
"Definitely, the acceptance is more than in the past," Pradhanang says. "There used to be a time of frowning—why do you not have a male friend with you? Now when I'm out doing my fieldwork, there is an excitement. Oh, it's another woman! It's good to see more women in this kind of field. The next wave is going to be bigger."
And institutions, such as the University-National Oceanographic Laboratory System, a consortium of 58 academic institutions and national laboratories involved in oceanographic research, have been working on ensuring that each organization has transparent policies related to pregnancy, nursing mothers, and sexual harassment at sea, aimed at improving conditions for female researchers.

"They've worked so hard with staff that any incident is the exception rather than the rule. The climate is different," says Associate Professor Bethany Jenkins, who, in part, studies how changes in the Antarctic environment influence diatoms' uptake of iron. Fieldwork on research ships is an all-hands-on-deck situation, with women working alongside male colleagues and crew in a genderless uniform of Carhartt coveralls and a knit cap.
"We joke that orange is the new black," she says. "Every human has different strengths. We work as a team and we depend on each other."
And that, researchers say, is better for science.
"It diversifies the whole endeavor," says Rynearson. "When I first went out to sea, there was definitely a macho atmosphere on the ships and I find that's largely gone away. Twenty years ago, most of the senior scientists were male and there were a lot of female grad students. That's all changed now, and it allows everyone's ideas to percolate to the forefront."
Young scientists like Lauren Zeffer '18 expect to do their future field research free from such distractions. The URI senior spent last summer inventorying nekton and vegetation at the Fire Island National Seashore as an intern in the National Park Service Northeast Region Geoscientist-in-the-Parks program. Working with two male biotechnicians, Zeffer, a wildlife and conservation biology major, cruised the coastal barrier network, monitoring aquatic life in the salt marshes for eight hours a day. Formal study in the biological sciences is a natural fit for Zeffer, who grew up in North Babylon, New York, exploring the beaches of Long Island.
"I came from a family that promoted science, so I think it's pretty exciting," she says. "You need strong women in the field and I think it's becoming more equal. In the past it was always the men doing the physical labor. Now there are more women biology majors. They are evening out the playing field and showing that women can do the dirty work." •