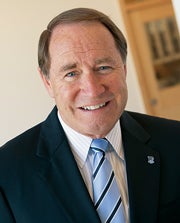 At the start of every new year I'm reminded of just how lucky Lynn and I are to be part of the University of Rhode Island community. Having spent nearly a decade here, we've witnessed incredible change and growth. In 2017, of course, we were honored to lead the celebration of URI's 125th anniversary. Together with you, we created some wonderful lasting memories.
Even as we look ahead to the excitement of our spring semester and all that it holds, I do want to share just one memory—which you can read about in much greater detail in "Prescription: Pay it Forward."
On Monday, October 16, we were thrilled to cut a ribbon at the College of Pharmacy building, which opened in 2012 and is now known as Paramaz Avedisian '54 Hall. Paramaz's brother, Edward Avedisian, made the incredibly generous gift of $5 million as a tribute to Paramaz, who embodied the best of URI scholarship and fellowship.
Edward, a recipient of the 2016 Ellis Island Medal of Honor, which is given to individuals for sharing their "wealth of knowledge, indomitable courage, boundless compassion, unique talents, and selfless generosity; all the while maintaining the traditions of their ethnic heritage as they embody the American Dream," wanted current and future generations of students and faculty to feel connected to Paramaz, who was in his own right a philanthropist, as well as a brilliant scholar and successful pharmacist.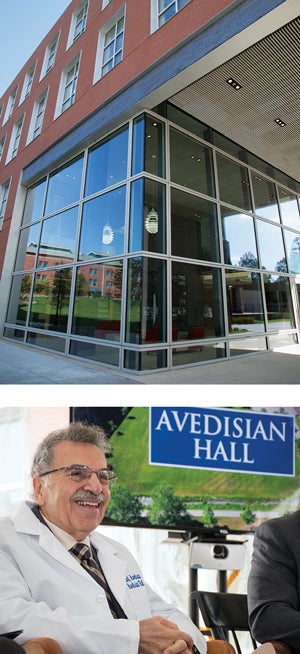 Paramaz's experience reflected that of many students who were the children of immigrants growing up in the mid-20th century. They knew education was their ticket to the American Dream.
Things are really not so different today at URI. In fact, our campus continues to welcome and support first-generation college students whose families have stressed the importance of education. In 2015–16 alone, URI distributed more than $90 million in financial aid—but another $100 million in need remained unmet. True to our mission as the state's flagship public research institution, we are committed to access, equity, and social benefit, and determined to serve all Rhode Islanders.
I expect that there are many Paramaz Avedisians among our alumni body. Your lives, like Paramaz's, were enriched by the generosity of ordinary people who saw your promise and found a way to help you achieve success. Perhaps you were the recipient of an athletic or academic scholarship, or had a campus job that helped you create your first professional network, or studied in our International Engineering Program and forged connections that led to the start of an amazing career. Somehow, your path at URI was eased by someone who came before you. Someone who helped you to think big—much bigger than you imagined possible.
Today, URI is poised to take a giant leap forward. Our campus is humming with activity. We've recruited hundreds of bright new faculty stars. Our student selectivity, retention, enrollment, and graduation are at record highs. We are a trusted partner to business and government in the state, and we have developed a reputation for excellence that extends beyond Rhode Island's borders.
Continuing to drive this forward momentum will require a tremendous effort—with support from every member of our community. Whether through scholarships for deserving students, or resources to ensure our classrooms, labs, and facilities are appropriately equipped for 21st century learning, opportunities to make a difference abound. You can play a critical role in helping achieve our vision for the University's bright future.
I look forward to sharing more about our plans with you in the coming weeks and months. In the meantime, I hope you draw inspiration from Edward Avedisian's transformative gift, and from the story of his brother, Paramaz, who experienced the kind of life-changing opportunity we can still make possible.
Onward and upward. Wishing you all the best in 2018.
David M. Dooley
President, University of Rhode Island