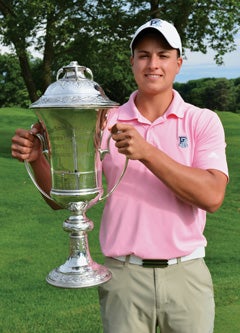 Dawson Jones '19 of Howell, N.J., won the 116th New Jersey State Amateur Championship in record-setting fashion in June. The 19-year-old accounting major shot 274 over four rounds, a record for the contest, breaking the prior record of 276 set by Asian Tour pro Mark McCormick of Suburban at Baltusrol in 2012.
Entering the final round, Jones trailed Dan O'Rourke by seven strokes, but his seven-under 65 helped him claim the title at the NJSGA Amateur Championship, hosted by Tavistock Country Club in Haddonfield, N.J. Buoyed by a birdie and an eagle to start the final round, Jones' round of 65 was just one shot off the lowest round ever recorded in the State Amateur. Jones drew even with O'Rourke at minus-12 with a birdie on the 15th hole, then took the lead for good with an eagle on the par-five, 489-yard No. 17.
"I never had a doubt about winning because you never know what can happen when you start making birdies and the other guy bogeys," Jones said. "This will definitely help my career so much and give me so much confidence, now that I know what I'm capable of."
The title capped a successful week for Jones, who played six rounds of golf in four days, including 36 holes at the U.S. Open sectional qualifier at Canoe Brook, where he shot three-under-par and tied for 17th place.