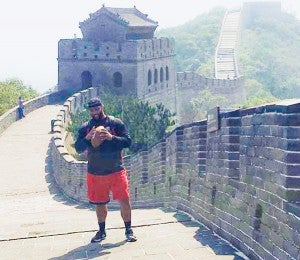 Former Rhode Island football player Willie McGinnis—one of the top defensive linemen in the Arena Football League—was part of the inaugural draft class for the six-team China Arena Football League, which began its first season this fall.
The CAFL—which is associated with the Arena Football League—will feature teams of players from the AFL, China and other indoor leagues around the world. The eight-on-eight style of football will feature four Chinese nationals and four foreign players on the field at one time for each play. Teams play a 15-game regular season that began in late September, followed by three rounds of playoffs.
McGinnis, a four-year veteran and two-time All-Arena Team selection in the American AFL, is playing for the Shanghai Skywalkers in the CAFL. Taken in the 10th round of the CAFL draft, McGinnis was the second defensive lineman picked up by the Skywalkers. Also taken by Shanghai was quarterback Shane Austin, an AFL teammate of McGinnis in Pittsburgh and Cleveland.
In four seasons in the American Arena Football League, McGinnis has 106 tackles, 26.5 sacks and 35 tackles for loss. He twice earned All-Arena League honors while playing for the Cleveland Gladiators. McGinnis also has played for the Pittsburgh Power and the Orlando Predators.
A native of Norwich, N.Y., McGinnis started all 45 games he played for Rhode Island from 2008–11. One of the program's best players, he was named to the Fans' Choice Rhody Grand Team in 2013 that honored the top 50 players in program history. He earned Second Team All-CAA accolades and was named his team's Defensive MVP as a senior in 2011.
Photo: courtesy of URI Athletics