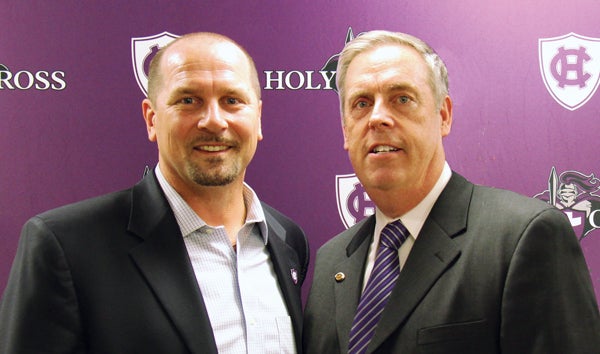 Thirty years ago, long before his winning reign as URI men's golf coach, Gregg Burke thought he had an interesting story to pitch about the last true two-way college football player: Gordie Lockbaum.
In truth, Lockbaum was more than that. The Holy Cross star was a tremendous athlete doing something that hadn't been done for decades as a starter on both sides of the ball, all the while performing as a top student at a top 50 academic school. His multi-dimensional prowess (Lockbaum played safety, linebacker, running back, wide receiver and kick returner) caught the attention of the national media and ultimately resulted in two runs for college football's most prestigious award, the Heisman Trophy.
For Burke—at the time the nation's youngest sports information director working at his alma mater—Lockbaum honored the original purpose of the Heisman Trophy. He represented what was right in collegiate football, without the bells, whistles and contrived hype of other stars.
And now, Burke's conviction—and Lockbaum's prowess—are getting national recognition. Both men are featured in the ESPN 30 for 30 short film The Throwback, produced and directed by Erin Leyden. Part of an Emmy-winning series of sports documentary films, the movie was released in December.
"The goal was to bring attention to Gordie as a Heisman candidate, and to a football program that did not interrupt or interfere with his college experience," says Burke, who is now in his sixth season as head coach of Rhode Island's men's golf team, which is ranked No. 1 in New England for the first time in 10 years. Burke's program is one of only two at URI with a perfect academic progress rate in the past four years.
Lockbaum remains the only non-Bowl Championship Series player ever to finish in the top five of Heisman voting, taking fifth in 1986 and third in 1987. Burke spread Lockbaum's story, getting feature stories with outlets such as Sports Illustrated, USA Today, The Today Show, CBS News, ABC News, and People Magazine. Burke also worked the phones to reach out to every single Heisman voter, back in a time when the award voters were much more of a closed society.
The two reunited in the fall for a series of events promoting The Throwback, a film that also features Holy Cross head coach Mark Duffner and nationally-renowned sportswriter Rick Reilly.
For more information, visit The Throwback on espn.com.