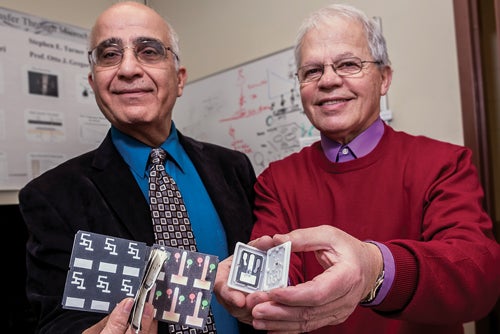 Lab of the Future
Soon, diagnosing disease could be as easy as using a pregnancy test.
A new tool for rapid, inexpensive medical diagnostics could revolutionize an entire industry. The critical innovation: wax valves, embedded in 3-D layers in a small strip of paper not much bigger than the pregnancy tests now common in grocery stores. Combined with paper's natural wicking properties, the miniature plumbing allows a small sample of fluid to move through multi-step tests—without the use of expensive lab equipment or trained personnel.
The invention, by a team of URI engineers led by Professor Mohammad Faghri, holds promise for all sorts of conditions, from Lyme disease to HIV, ebola, and malaria. It could also be used to detect environmental contaminants, and biological or chemical threats.
The implications are vast, from diagnosing disease in humans, to veterinary applications, to fighting bioterrorism at airports—anywhere that rapid diagnoses are needed in the field.
"We're the only research group in the world to have created fluidic valves on multi-layered paper without the use of external mechanical, electric or magnetic force," said Fahgri. "When combined with an optical reader, which could even be a conventional smart phone, the lab-on-paper device provides accurate quantitative results." •