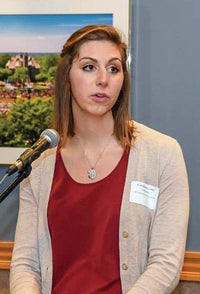 In October 2013, Rhode Island women's volleyball player Caroline Casey '15 became the fifth member of the URI Athletics family to complete a bone marrow donation to save the life of a stranger. And now, she and Jennifer Guthro are officially no longer strangers.
Guthro, six months pregnant at the time, was diagnosed with leukemia in 2013. Casey, who registered as a potential donor in the spring of her freshman year under the football team's annual marrow drive, was a perfect match. The pair underwent operations, but under transplant guidelines, were not able to meet or know each other's names for a year. That changed this spring at the Annual Andy Talley Bone Marrow Bash at Villanova, which, like URI, partners with the Be The Match Registry.
Casey was also one of 71 student athletes to make Dean's List both semesters last year, and addressed fellow students at the annual reception honoring successful student athletes.
Don't miss the Sports Illustrated story and video about Casey's life-changing experience as a bone marrow donor.