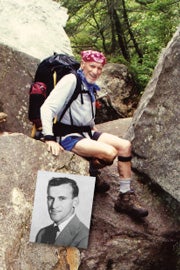 Happy Trails
Hiking the 2,174-mile Appalachian Trail across 14 states is an arduous task for even the most avid trekker. When that hiker is an octogenarian, completing the trail becomes a feat for the record books. In 2004, 82-year-old Manny, aka Mike, Caetano made history when he reached Mt. Katahdin, the northern terminus of the trail in Maine, becoming the oldest person who finished the trail in two years.
In 2002, Caetano, a veteran of World War II (which interrupted his undergraduate years at Rhode Island State), and the Korean and Vietnam Wars, was beset by injuries and had to return home three times. For Caetano, the fourth time was the charm. Donning 30 pounds of gear, including a tent and provisions, he accomplished his goal.
Life on the trail can be lonesome, but Caetano, a physical education major in college and a member of the 1941 championship cross country team, maintained daily contact with his family.
"I carried a wireless phone and found high spots to call home so that my family knew where I'd be spending the night. My wife also sent supply packages to the post office boxes along the route, and I picked them up when I reached that destination."
Meeting new people is an enjoyable part of the Appalachian experience. "People who live nearby come out of nowhere with pizzas, or, they'll take you to their home for an overnight. Many open their homes as hostels where you can get a bunk and a big breakfast."
Having enjoyed the experience so much, Caetano was eager to start again last year, but radiation treatments kept him at his Pensacola, Fla., home. Now in remission, he is aiming to set another record—the oldest person to complete the trail in a year. His journey began on March 13, and he expects to average 12 miles a day, celebrate his 85th birthday in August, and end his journey in October.
"I told my wife that this will be my last attempt. I want to do it one more time."
—Maria V. Caliri '86, M.B.A. '92