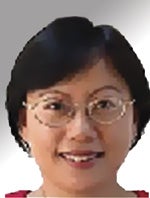 Her Honor the Mayor
Aileen Kao stands at the forefront of a quiet revolution taking place in Santa Clara County, Calif. As the mayor of Saratoga, an affluent community of almost 30,000 in San Francisco's Bay Area, the 55-year-old is one of five Asian immigrants elected to mayoral posts in the county late last year.
Kao's journey from being a pharmacist in her native Taiwan to becoming the mayor of Saratoga included a stop in Rhode Island, where, after immigrating to America in 1976, she earned her M.S. in medicinal chemistry.
As a scientist who has worked as a software engineer and program manager and who is now a business development manager for a Bay Area company, politics wasn't necessarily high on Kao's list of areas to tackle. But in 1986, when she and her husband and young son moved to Saratoga, the busy mom became active with her son's elementary school. Two years later, she ran for—and won a seat on—the city's school board.
As her son grew, so did her involvement in local politics. He's now a college student, but his mother hardly has time to notice her empty nest. In the fall of 2004, she ran for a seat on the Saratoga City Council and was the top vote getter and the first Asian-American to serve on the council. In the fall of 2005, her fellow councilors unanimously voted her in as Saratoga's mayor.
In 2005, Saratoga was named by CNN/Money and Money magazine as the 26th best place to live in the United States; the new mayor intends to safeguard her city's high quality of life. She confesses that her new role is a daunting one. "When I lifted the gavel for the first time, it seemed quite heavy," she said in a story in the Los Gatos News last March. "A city of so many high achievers…this really is no small task."
Given her own achievements, Aileen Kao is perfectly equipped to handle her latest challenge.
—Paula M. Bodah '78