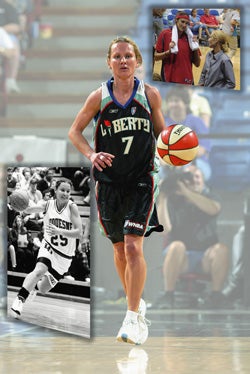 Assistant Coach Korie Hlede entered her first season with the Rhode Island women's basketball program in 2008-09. A native of Zagreb, Croatia, Hlede was a standout player at every level of competition from her collegiate days at Duquesne to the professional level in the WNBA and overseas.

She was the fourth overall pick in the inaugural WNBA Draft (1998), finishing second in voting for the league's Rookie of the Year award with the Detroit Shock. Twice (in 1999 and 2001) she led the WNBA in 3-point field goal percentage.
From 2002-2008, Hlede competed in the European League, spending time in the First Divisions in Spain, Turkey, Hungary, Croatia, and Brazil. She competed in three FIBA Cup championships.
At the collegiate level, Hlede was a four-year standout at Duquesne, fnishing her career with a number of school records: career points (2,631), scoring average (24.1ppg), steals (334), assists (570), three-pointers made (162) and three-point percentage (.356). The 1994 Atlantic 10 Rookie of the Year, Hlede went on to earn the conference's Player of the Year award in both 1995 and 1998.
She was a three-time CoSIDA Academic All-America selection and a two-time KODAK All-American. After receiving her B.A. in communications and psychology in 1998, Hlede became the first female student-athlete in Duquesne history to have her jersey retired.
Talk about the discipline it took to achieve both academic and athletic All-America awards in college.
The best thing about winning those awards is that it never felt like a discipline. When you are motivated and care about what you are doing, the discipline ceases to be so; it becomes a natural way of life. Looking back, my life back then was very organized and routine, but I enjoyed every minute of it.
You enjoyed a fine professional career in the WNBA and internationally. What was it like to compete and excel at the highest levels?
It was a great experience. Being in the WNBA and competing against the best in the world is a fulfillment of an athlete's dream. Playing overseas and getting a taste of different cultures, different habits and ways of living completed the other part of me. I was always curious about the way other cultures lived their lives. I wanted to grow and understand and relate to as much of the world as I could.
What was it like coaching in the WNBA? Any similarities with coaching at the D1 level?
I think they are very different. Basketball is basketball, of course, but with coaching at the college/university level, there comes so much more responsibility as you are equally invested in making the players better at basketball, school, and life.
Are you glad to be back and involved in Atlantic 10 women's basketball again? How has your time as a player in the A-10 helped you in your role as a coach at URI?
Absolutely! It is an ideal situation. While it has been quite a while since I played, I am still familiar enough with the conference for it to be an asset, and it makes it more exciting. It's also nice to revisit the places I used to play.
What will it be like for you to return to Pittsburgh on March 1 at your alma mater Duquesne?
It will be special. I have not had a chance to visit too much since I graduated, due to playing and coaching. But it will be all that much better if we win!