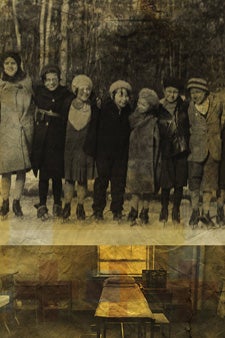 Filmmaker David Bettencourt '97, the award-winning director of the 2007 regional hit YOU MUST BE THIS TALL: The Story of Rocky Point Park, turned his camera away from amusement parks to focus on tuberculosis
The result is ON THE LAKE: Life and Love in a Distant Place, an absorbing hour-long documentary that sheds light on TB. But it goes well beyond scientific facts and figures into the lives of victims and survivors. While many Americans may think TB has been relegated to history books, in reality the documentary shows the disease is on the rise and unfortunately thriving. TB cases in this country, while climbing in some places, are still relatively low today thanks to our high standard of living and advanced health care. The disease, however, is a pandemic globally.
ON THE LAKE: Life and Love in a Distant Place tells the human story of America's TB epidemic during the first half of the last century through firsthand accounts of this dreaded disease. Interwoven in these personal stories is the medical drama of tuberculosis, including commentary by today's top TB medical experts.
The film is a collaboration between Bettencourt, who teaches film media classes at URI, and G. Wayne Miller, an award-winning staff writer at The Providence Journal and author of seven books. The film tells the story with rare footage, stills, and letters—some never seen publicly before—and with sensitivity through the accounts of people who survived TB after years of near exile and questionable treatments in sanatoriums across the country.
The filming began at Wallum Lake, R.I., in 2007 and moved to six other states including Saranac Lake, N.Y., the largest treatment center for patients east of the Mississippi, and then to Denver, Colo., the largest center in the West.
The documentary has another URI connection: the Joe Parillo Big Band performed some of its music. Joe, an associate music professor, directs URI's jazz program. Band members included Mike Greenfield, an associate professor in chemical engineering, Sue Curzio '07 and graduate music students Steve Grueb and Dave Drapeau.
R.I. PBS will broadcast the film on March 25 at 8 p.m.