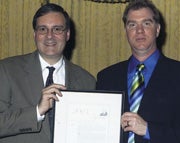 Creative Engineering
With a grant awarded to him for his work in a highly technical field, Scott Lawing is giving back to the URI chemical engineering program that set him on his career path.
Lawing donated the $5,000 grant that came with the Otto Haas Award for Technical Excellence to the Sensors and Surface Technology Partnership at URI. His employer, specialty chemical manufacturer Rohm and Hass Co. of Phoenix, Ariz., recognized Lawing for helping customers understand the best ways to utilize the company's electronic materials and for pioneering processes that help fully enable those products.
The products are used in the manufacture of electronic devices that have become faster and more powerful as a result of Lawing's research. He is considered an expert in the field of chemical mechanical planarization, a polishing process used to create smooth, flawless surfaces on semiconductors.
Lawing was surprised when he was recognized with the award. "I'm glad people were paying attention to the work I was doing," said Lawing, who holds several patents for his work and has been widely published.
One reason he chose to give the money to the URI partnership is that one of the program's co-directors, Dr. Otto Gregory, was his advisor while he was getting his master's degree. "I wanted to see the money go somewhere where I knew how it would be used," Lawing said. "I wanted to give future students the same exposure I had in an industry setting."
Although his work is highly technical, Lawing enjoys using both sides of his brain. He first came to this realization when he was pursuing a degree while playing guitar in a band. Music helps him keep a balance so his brain is in shape when he needs to use both sides at once. "My engineering is at its best when it has a creative element," remarked Lawing, who earned his doctorate at MIT.
—James Acone, '08