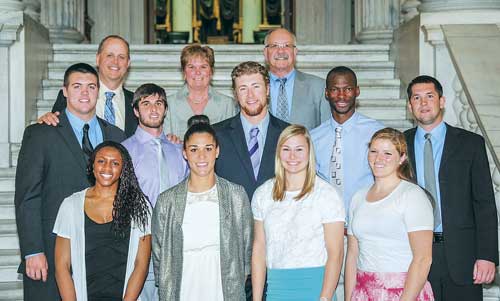 Ten URI student-athletes and a distinguished alumna were honored at the Rhode Island State House on April 29 in an annual event hosted by Speaker of the House Gordon Fox.
Celebrated for their significant academic and athletic achievements were (from left, front row) Kimberly Ezeama, women's track & field; Lara Gaspar, women's basketball; Jill Anderson, volleyball; Lotte Sherman, rowing; (second row) Jeff Kennedy, football; Robby Gargaro, men's soccer; Kevin Stenhouse, baseball; Anthony Davidson, men's track & field; David Gosselin, golf. Not pictured: Kelly Coker, softball.
Patricia Nicol '80, M.S. '83, a former URI track & field standout (third row, between Athletic Director Thorr Bjorn and Provost Donald DeHayes), was honored as this year's distinguished alumna. Nicol has enjoyed a diverse background at all levels of intercollegiate athletics: student-athlete, coach, administrator, and currently, director of athletics at Southern Connecticut State University. At URI, she was the first female student-athlete to earn an athletic scholarship, registered eight of the top 10 fastest 800 meter performances in URI history, and still holds the school's indoor 800 meter record, set at the 1980 New England Championship. She was inducted into the URI Athletics Hall of Fame in 1990.