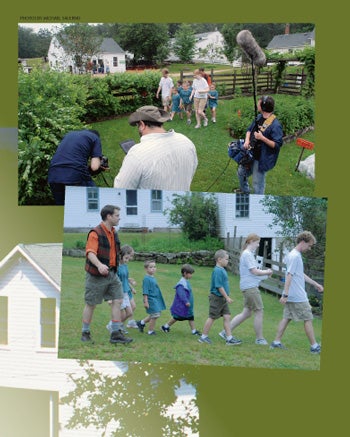 Young campers at our W. Alton Jones Campus were featured on TV's Food Network show, The Secret Life of … this spring. Theater alumnus Jim O'Connor '87, host of the show, and a camera crew spent a day with six campers and two counselors at Woodvale Farm Day Camp at the Jones Campus in West Greenwich in June 2006.
The children harvested strawberries and rhubarb and made cornbread, zucchini bread, and strawberry rhubarb crisp. The kids also interacted with the goats, fed and watered the sheep, visited the cows, and collected eggs from the chicken coop.
"The Food Network was attracted to our camp because we have young children harvest produce from our farm to prepare food," says John Jacques, manager of the campus's Environmental Education Center. "We make a direct connection between where the food originates and the final cooked product. Usually the campers cook one or two items like corn or zucchini bread during the week. They also make hand-cranked ice cream; while not technically cooking, it's a camp favorite."
The camp's setting is an original 18th century farm surrounded by rocky pastures with a country barn and lush gardens. It's home to sheep, ducks, chicken, pigs, rabbits, cows, and goats. For more information, click on uri.edu/ajc/eec/camp/summer/daycamp.html.